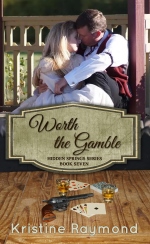 Join Book Lights Radio Tuesday September 20th at 8:30 p.m. EST when host Debra Parmley chats with historical romance author Kristine Raymond about her Hidden Springs series and about the exciting events she has planned for Pages in the Caves, a reader author event which takes place Saturday, Sept 24th near near Mammoth Cave in Cave City, KY.
Listen here Tue. night 8:30 eastern!
About Worth the Gamble:
Olivia Thatcher spent her life living up to other people's expectations.
The town's only schoolteacher, she conducts herself as a proper lady, never revealing that underneath her reputable exterior lies a soul aching with desire.
Dallas Trent lives life on the edge, always on the lookout for the next game of chance. A gambler by nature, he's ready to take any risk…except when it comes to his heart.
Butting heads the first time they meet, both are surprised to discover they have common interests. Forming an unexpected bond, their friendship quickly grows into passion, much to the disapproval of the town's busybody. Rumors fly, and when Dallas is accused of murder, their relationship is put to the test. For the first time in her life, Olivia must make a choice between her heart and her home.
Will falling in love be worth the gamble?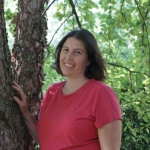 About Kristine:
Kristine Raymond didn't figure out what she wanted to be when she grew up until later in life. If you haven't guessed, it's being an author. She's spent the past two years writing, and learning how to navigate the publishing and promotional side of the business. Seven books have been released in the Hidden Springs series and she is working on the eighth. When she is not writing, she enjoys spending time with her husband and furry family.
She is the author of Here to Stay, Hearts on Fire, Abby's Heart, A Chance on Love, A Will of Her Own, Dancing in the Dark, Worth the Gamble, a contemporary novella called By Dawn's Early Light, and a non-fiction book titled 'write words' – A Year in the Life of an Indie Author.
Kristine is also the organizer of Pages in the Caves, a brand new reader/author event in Cave City, KY near Mammoth Cave, KY. www.pagesinthecaves
Listen to hear how you can enter for a chance to win one ticket to Pages in the Caves! The lucky winner will be announced on Thursday!
For more about Kristine Raymond:visit her website, follow  her on Facebook, Twitter, and Google+
and for more about the host of Book Lights Debra Parmley visit www.debraparmley.com
Book Lights – shining a light on good books!