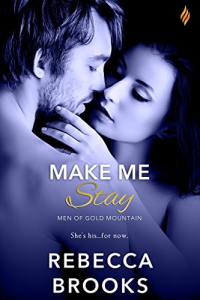 Vegetarianism, Romance, and Hot Athlete Heroes by Rebecca Brooks
MAKE ME STAY, book 1 in the Men of Gold Mountain series, is a ski romance set in the mountains in Washington state. I found the kernel that eventually became the book when I was skiing with my dad in New Hampshire and we saw a high school racing coach coming down the slopes, skiing beautifully with a line of teenage girls following in his tracks. I decided the hero, Austin, would be a racing coach who trains Olympic hopefuls on a high school girls' racing team after his own Olympic dreams are shattered. I knew he and the heroine, Sam, would meet on the slopes, and that once she sees him ski, she wouldn't be able to take her eyes away—no matter the consequences.
One thing I thought a lot about when writing Austin's character was how he fuels such intense physical activity. The man skis every morning, goes running with his German shepherd Chloe, and then alternates working on Ski Patrol or doing cardio and strength training—all before spending his afternoons coaching his team. I'm always thrown out of the story when an extremely fit, muscular hero never seems to work out, but Austin earns every inch of his body. Sam is a lucky woman to be with someone who has such dedication, stamina, and drive!
Luckily, Austin's best friend Connor is a chef, so even though Austin doesn't do much cooking himself, he gets to eat well. Connor is pretty creative in the kitchen, and I had fun giving him interesting dishes to test out on his friends. And Austin does have a secret recipe he gets to show off when Sam spends the night—his favorite French toast, with extra cinnamon and fresh berries on the side. Also a personal favorite of mine!
One fun fact a lot of people don't know about me (unless they offer to take me to a steakhouse) is that I'm a vegetarian. My parents raised me without eating red meat, so I've never had a hamburger or bacon. I stopped eating chicken and fish when I was eleven and decided the environmental and ethical issues I had with eating other kinds of animals applied to chicken and fish as well. Vegetarianism has been part of my life forever, so it doesn't feel like a big decision or as though I've given anything up. I'm also a big hiker and skier, and even though I don't work out quite as much as Austin, I try to eat well. I think it's important not to go too overboard—chocolate is its own food group—but I eat a lot of veggies!
I love writing about food just as much as I love writing about the outdoors. But whereas the descriptions of Austin and Sam skiing came naturally, based on my own experiences, writing about food is a little harder. When I write about meals that aren't vegetarian, I always have to Google the dish to get an idea of how to describe it. When Austin and Sam eat at Connor's restaurant, though, I put in a few surprises—including a meal inspired by the trip to Oregon and Washington that led me to come up with Gold Mountain, Washington, and set MAKE ME STAY in the Pacific Northwest.
I've never written an explicitly vegetarian character, but I'm sure I will someday. In the meanwhile, I'm glad Sam and Austin are eating well. They have to keep up their energy when they're out on the slopes—and in the bedroom, the living room, the backwoods, braced against a snowmobile… Well, you get the idea!

ABOUT THE AUTHOR
Rebecca Brooks lives in New York City in an apartment filled with books. She received a PhD in English but decided it was more fun to write books than write about them.
She has backpacked alone through India and Brazil, traveled by cargo boat down the Amazon River, climbed Mt. Kilimanjaro, explored ice caves in Peru, trekked to the source of the Ganges, and sunbathed in Burma, but she always likes coming home to a cold beer and her hot husband in the Bronx.
She likes outdoorsy guys with both muscle and heart and independent women ready to try something new.
Feel free to contact me, or for more info and updates, check out the News page.
Learn more about Rebecca and her books at: