Paulette Harper is a woman of many talents. She is an award-winning, bestselling author, and founder of WNL Coaching and Marketing Services. Along with being an ordained Elder, she is the author of several books and founder of Write Now Literary Virtual Book Tours, a service to help promote authors of the Christian genre and authors of clean books.
As an inspirational and motivational speaker, Elder Paulette's desire is to empower, influence and cultivate women to move forward while dealing with issues that hinder women from becoming all they are created to be. She joins me to discuss her latest novel, Secrets Places Revealed: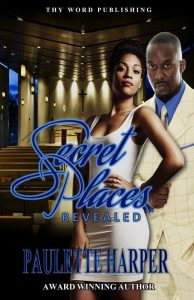 Book Blurb:
A broken man, a woman on the run, a love that won't be denied.
Single—and very content—real estate developer Aaron Blackman is determined not to become involved in another relationship. He's experienced enough drama to last a lifetime. The only thing garnering his attention now is his growing business. And he plans to keep it that way. Then Simone Herron waltzes into his life, beautiful and confident. Fighting to keep his promise to himself—to remain single—he soon discovers that when it comes to love, some promises must be broken.
After losing her fiancé in an untimely death, Simone Herron relocates. She desperately needs to put the past behind her and start a new chapter in her life. While love is the farthest thing from her mind, she experiences an attraction to the handsome Aaron Blackman that frightens her. She's built a wall around her heart, but can she find the strength and courage she needs to welcome love again? To do so, she must conquer her fears and allow God to put all of her broken pieces back together.
Create Christian Fiction!