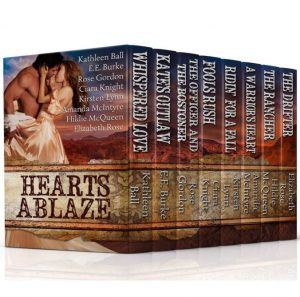 Tune in Tue., Oct. 25th at 8:30 p.m. eastern as Book Lights host Debra Parmley chats with western historical romance author Kathleen Ball about Whsipsered Love, Kathleens contribution to the new box set, Hearts Ablaze box set of eight western historical romances.
Listen here Tue. night 8:30 eastern!
About Hearts Ablaze and Whispered Love:
Eight bestselling authors. Eight sizzling tales of the Old West to set your heart ablaze…
From the wild Pacific forests to the lonesome plains, on wagon trains and at frontier outposts, fall in love with lumberjacks and soldiers, trailblazers and trick riders, courageous warriors and rugged cowboys…
In Whispered Love, bestselling author Kathleen Ball takes you to the wild Pacific Northwest, a land bristling with handsome, well-muscled lumberjacks. Foreman Samuel Pearse has only one rule; no women allowed. Until he finds one asleep in his bathtub—Pat Clarke, the company cook. With her secret revealed and her virtue at stake, Pat turns to the only man who can help her…the one man who sets fire to her heart.
About Kathleen:
Kathleen Ball writes contemporary and historical western romance with great emotion and memorable characters. Her books are award winners and have appeared on best sellers lists
including: Amazon, All Romance Ebooks, Bookstrand, Desert Breeze Publishing and Secret Cravings Publishing Best Sellers lists. She is the recipient of eight Editor's Choice Awards, and The Readers' Choice Award for Ryelee's Cowboy.  Winner of the Lear diamond award Best Historical Novel- Cinders' Bride.
There's something about a cowboy….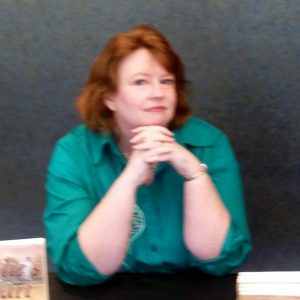 For more about Kathleen visit www.kathleenballromance.com
and for more about host Debra Parmley visit http://www.debraparmley.com
Book Lights – shining a light on good books!