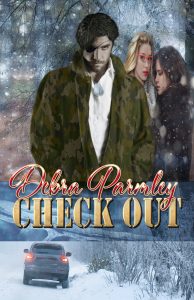 Resolutions with Debra Parmley
Resolutions – I used to make them every New Years. This is the first year I haven't made one. The problem with a resolution is, it's thinking and saying, not doing. I think that's why so often mine failed. A resolution or decision to change anything must be followed with continuing action to build a pattern or habit. We build habits whether we want to or not. Not doing something is also a habit. So while I didn't make a resolution I have made changes already, before the New Year.
In personal goals they are health related. More sleep is one. Sleep deprived writers don't write as well. At least I don't. I'm using the bedtime function on my iphone to remind me when to go to sleep and the alarm wakes me up when those eight hours are up. Drinking more water is still an issue after kidney stones so I'm starting to measure the water I drink so I'll know how much more I need.
Author changes for me for 2017 are to follow up on previous books now that the back list is back out, which is a first for me. I'll have Carolyn's Christmas Ranger out in Dec. which ties A Desperate Journey and Dangerous Ties together bringing Sally's daughter and Lillian's Texas Ranger son together. That wasn't possible before as the books were with two different publishers. I'll finally have series books out with Dancing Butterfly, book two in my 1920's Butterflies Fly Free series. I'm writing in a Kindle World for the first time with a book out June 8th in Elle James Brotherhood Protectors series. I'm writing my first AF hero since I am an AF veteran's wife and that hero is in a creepy elf story, which comes out in Dec.  The first book out in 2017 will be A Change of Scenery, book one in my Hunger Roads sci-fi romance trilogy. I'll also be writing pieces for my street team, which they'll get to read first, as well as a few interactive pieces.
So now how to juggle all that? Well a one hour writing sprint every day is the new plan. Changes, that's what I'm making. Doing instead of deciding to do. It's already turning into the most awesome writing year ever and I am thankful for all the wonderful things now and coming. Most of all I'm thankful for my readers and plan to be more present at assigned times in the street time and on social media with some live posts.
Blurb for Check Out:
When Nash, a Marine returning home with an injury, who is rebuilding his life, walks into the library where shy librarian Betsy Bobbin works, she's intimidated by the handsome man who wears an eye patch and an attitude. But when her car has a flat in the library parking lot as she's leaving work during a winter storm, the mysterious Marine comes to her rescue.
He comes to her rescue again when Betsy and her less mature younger sister Leann have trouble at a local country western bar with a drunk who won't leave Leann alone. But the fight outside the bar between an angry Nash and the drunk frightens Betsy. She's fallen for the recovering war veteran, but is it safe to fall for a man with PTSD? Betsy is torn. Will love and trust win out over her fear before it is too late?
Nash has found the girl of his dreams, but his wounds run deep. His ex-fiancé was repulsed by his eye patch and his scars, and manufactured drama like bees do honey. He's sworn off of women and their drama and is keeping his focus on restoring a one hundredth anniversary 2003 Harley Davidson Road King and on the college classes he is taking. Meeting Betsy at the library, he's drawn to the sweet, shy librarian and she brings out his protective instincts. If only her sister would stop getting in the way.
Real drama surrounds Betsy, when a stalker comes after her sister Leann. The girls learn that stalking is a real problem on college campuses when Leann's tutor stalks her. When Leann's college stalker shows up in town Betsy again turns to Nash.
This military romance with a touch of suspense features a Marine veteran hero with PTSD, a shy college librarian heroine, her younger less mature sister and a college campus stalker.
You can purchase Check Out at:
Amazon
Check Out in audiobook on Audible:
My ebooks and audiobooks on itunes:
https://itunes.apple.com/ca/author/debra-parmley/id411082477?mt=11
My ebooks on Kobo:
https://store.kobobooks.com/en-us/search?query=debra%20parmley
Barnes & Noble:
http://www.barnesandnoble.com/s/debra+parmley
Social Media Links:
Newsletter sign up link: http://eepurl.com/ZUyC1
LINK TO MY SHOW:    http://bit.ly/BookLights
Website: http://debraparmley.com/
FB fan page: https://www.facebook.com/debra.parmleyauthor/
FB personal page: https://www.facebook.com/people/Debra-Parmley/524551932
Pinterest: https://www.pinterest.com/debraparmley/
Goodreads: https://www.goodreads.com/DebraParmley
Amazon author page: https://www.amazon.com/Debra-Parmley/e/B002BM9H4A/ref=sr_ntt_srch_lnk_1?qid=1477549637&sr=1-1
Cover Model Corner: https://covermodelcorner.wordpress.com/