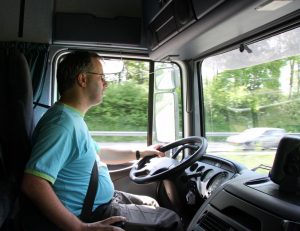 Reading on the Road: 5 Audiobooks to Listen to on Long Road Trips
By guest blogger Dixie Somers
If you are engaged in a profession where you spend a lot of time on the road, such as truck driving or sales, you're likely looking for ways to pass the time during those hours. One of the best ways to entertain yourself while driving is by listening to an audiobook using a service like Audible or Graphic Audio. Here are five of the best recent audiobooks to check out.
Big Little Lies by Liane Moriarty
Whether you're already a fan of the wildly popular HBO show based on Moriarty's novel or you're waiting to binge it after you read the book, now is the time to delve into this ultimate beach read. Set in Australia, it's an addictive blend of parenting satire and dramatic mystery with an excellent audio performance by Caroline Lee.
The Turn of the Screw by Henry James
Named one of 2016's Best Audiobooks by Slate, this classic ghost story explores the mind of a woman who may be slowly going mad. As read by Academy Award-winning actress Emma Thompson, the protagonist has an air of credibility that will make the listener question whether she might truly be seeing ghosts.
The Nix by Nathan Hill
This widely lauded debut novel was named as the best audiobook of the year by Audible. The multilayered saga travels from the present to the Chicago riots of the 1960s as it delves into a man's complex relationship with the mother who abandoned him.
Stone Mattress by Margaret Atwood
With Atwood's The Handmaid's Tale about to debut as a Hulu series, the legendary Canadian author is currently in the spotlight. When it comes to Atwood audiobooks, this collection of short stories is perfect for a commute. The witty, satirical stories are given life from a host of impressive performers, including comedian Rob Delaney. Atwood herself takes a turn as narrator for the collection's title story.
Born a Crime by Trevor Noah
Noah, best known as the current host of The Daily Show, narrates his own memoir, the story of his childhood and adolescence in South Africa during apartheid. While the book itself is extraordinary, Noah's expert narration and ability to mimic characters, languages, and accents adds a whole new layer as an audiobook. Born a Crime won the NAACP Image Award for Outstanding Literature in 2017.
Regardless of whether you prefer fiction or nonfiction, classics or contemporary, audiobooks are a fun, affordable way to enjoy literature while you're engaged with driving. It's a fun way to make time go faster when you're tired of listening to music or the news.
Dixie Somers is a freelance writer and blogger for business, home, and family niches. Dixie lives in Phoenix, Arizona, and is the proud mother of three beautiful girls and wife to a wonderful husband. You can follow her on Facebook.