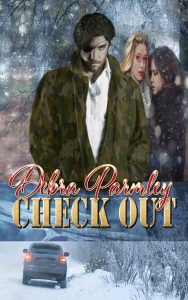 Libraries. I love them. Do you? Libraries are full of treasures.
By Debra Parmley
As a child I loved going to the old Warder Public Library in downtown Springfield, OH and would check out the maximum number of books allowed. How much booty could I carry? Sometimes if my favorite librarian was there, she'd let me take one more book over the limit. She knew I took care of books like the treasures they were and would return them on time. The Anthony Wayne Elementary School librarian would always suggest books I might like. Librarians are the guardians of the treasures and they too are a treasure.
Children's story hour at the public library was one of my favorite things as I loved to be read to and I confess to this day if there's a story hour I'll hover near to listen because I still love to be read to. Story hour is a treasure.
My favorite memories as an adult in libraries I visited are of wandering through the stacks and racks, past the shelves until a title on the spine of a book captured my attention and curiosity. I'd be drawn to that book as if it were a glimmer of gold and have to pull it to see what hidden treasure was inside.
When I lived in the Pocono Mountains, one mile from the sign that said highest elevation in the Poconos, we had a bookmobile that would come up the mountain. I'd line up with the other mothers and children to see what treasures it held. We didn't have online book orders or e-books back then and eagerly awaited the book mobile. Book Mobiles are like moving treasure ships.
During the six years we lived in the Poconos I went back to finish my BA degree in English. My work-study job was at the Marywood University Library. When new books came in I got to log them into the system. I got to return books and other materials to every section of the library. If wandering the public library was an adventure full of attention catching books, the college library was fascinating because of the materials there. I enjoyed the job so much I almost changed my degree to library science. But the call to read and write books was stronger so I finished my English Literature degree.  College and university libraries are full of treasures.
Since then I've written books, both fiction and poetry, been published by several publishers and now have my own small boutique press. My love for libraries remains strong as ever and I enjoy visiting libraries and meeting librarians.
My most recent book, Check Out, is set in Bartlett, TN, where I live. It's about a shy librarian and a Marine veteran who has returned home with an injury. I'm thrilled to be one of forty authors selected to take part in Book Stock 2017 at the Benjamin L. Hooks Central Library in Memphis, TN. Book Stock is a fundraising event for the library. Our Bartlett library is part of the Memphis Public Library system and it seems fitting that sales of Check Out will help support our local libraries. The signing is April 29th from 11:00 to 3:00.
June 1st I'm signing books at the Mary Wood Weldon Memorial Public Library in Glasgow, KY.   July 29th I return to teach Building a Better World Through Stories, a four-hour writing workshop, part of the library's Build a Better World Summer program.
Libraries. I love them and always will. They are full of treasures, the kind that are meant to be shared. I hope everyone will support their local library so children and adults will always be able to walk through those doors to go treasure hunting.
CHECK OUT by Debra Parmley
When Nash, a Marine returning home with an injury, who is rebuilding his life, walks into the library where shy librarian Betsy Bobbin works, she's intimidated by the handsome man who wears an eye patch and an attitude. But when her car has a flat in the library parking lot as she's leaving work during a winter storm, the mysterious Marine comes to her rescue.
He comes to her rescue again when Betsy and her less mature younger sister Leann have trouble at a local country western bar with a drunk who won't leave Leann alone. But the fight outside the bar between an angry Nash and the drunk frightens Betsy. She's fallen for the recovering war veteran, but is it safe to fall for a man with PTSD? Betsy is torn. Will love and trust win out over her fear before it is too late?
Nash has found the girl of his dreams, but his wounds run deep. His ex-fiancé was repulsed by his eye patch and his scars, and manufactured drama like bees do honey. He's sworn off of women and their drama and is keeping his focus on restoring a one hundredth anniversary 2003 Harley Davidson Road King and on the college classes he is taking. Meeting Betsy at the library, he's drawn to the sweet, shy librarian and she brings out his protective instincts. If only her sister would stop getting in the way.
Real drama surrounds Betsy, when a stalker comes after her sister Leann. The girls learn that stalking is a real problem on college campuses when Leann's tutor stalks her. When Leann's college stalker shows up in town Betsy again turns to Nash.
This military romance with a touch of suspense features a Marine veteran hero with PTSD, a shy college librarian heroine, her younger less mature sister and a college campus stalker.
You can purchase CHECK OUT at:
Barnes and Noble Page
Audible Page
iTunes
Kobo
For signed copies of Debra's books contact Debra's home town Indie Book Store:
http://bookstopplus.com/
Find out more about Debra and her books at:
Website: www.debrapamley.com
Facebook Author Page: https://www.facebook.com/debra.parmleyauthor/
Fan Group on Goodreads: https://www.goodreads.com/group/show/213745-debra-parmley-lamplighters
Goodreads Author Page: https://www.goodreads.com/DebraParmley
Twitter: https://twitter.com/DebraParmley
Pinterest: https://www.pinterest.com/debraparmley/
Newsletter sign up link: http://eepurl.com/ZUyC1
Blog: https://threadingtheweb.wordpress.com/
Amazon Author Page: https://www.amazon.com/Debra-Parmley/e/B002BM9H4A/ref=sr_ntt_srch_lnk_1?qid=1490677446&sr=8-1