Stories set in the 1870s of brave women who traveled to the west to seek marriage and a better life.
Wilhelmina, A Winter Bride was released on 1/17/17
Amazon KU Link:http://amzn.to/2gZ5fAU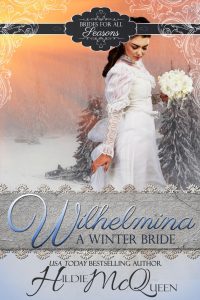 Blurb:  If opposites attract these two strangers will collide with the force of a raging storm.
Out of options, Wilhelmina Wilkins heads west to marry a total stranger upon answering a mail order bride ad.  What could have been a fairytale beginning turns out to be this bride's nightmare. Instead of meeting Wilhelmina at the train station, her husband-to-be is in the center of town brawling.
Marcus Hamilton is blindsided twice, first, by a mail order bride ad posted for him by his mother and sister, and secondly, by the beauty of the woman who arrives to marry him.  That the bride wishes to cancel all plans after he fails to make a good first impression will not do.  How far will Marcus have to go to prove his worth?
Aurora, A Romantic Bride was released on 2/14/17
Amazon KU Link: http://amzn.to/2pGHFtq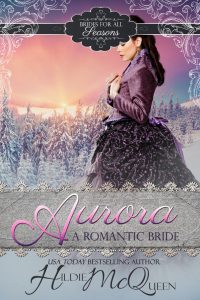 Blurb: Sacrifice comes at great cost to a young woman forced to marry and save her family from ruin.
Aurora Middleton loses her best friend and a chance of love at the same time.  When confronted with how horrible her life will become, she makes a decision that brings a monumental change.  Moving west, leaving all she's ever known will either be a fresh start or the beginning of something worse.
Evan Jones left his life of high society firmly back east.  Now the small town doctor has a comfortable life in the Laurel, Montana.  When a storm hits, he offers Aurora Middleton and her friend a place to stay all the time resenting the attraction he feels to a woman that reminds him of a life he'd purposely left in the past.
Lucille, A Lucky Bride was released on 3/14/17
Amazon KU Link: http://amzn.to/2pGiVSe
Blurb:  A beautiful woman arrives during the worst time of his life.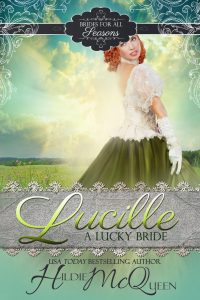 Lucille Ash travels west with her mistress expecting to continue a life of servitude. However, her entire existence changes upon arriving in Montana. No longer a maid, she is free to make choices about her future. One thing she's certain of is that she will never choose the infuriating Tobias as her husband.
Through the haze of sorrow after losing his mother, Tobias Hamilton still notices the stunning new woman in town and decides to marry her. When he announces his intentions, the feisty woman swiftly rejects him. How to convince her of his true feelings when he is not sure himself?
Although transformation can happen, sometimes it takes more strength than one can ever imagine.
Esther, An Easter Bride was released on 4/18/17
Amazon KU Link:  http://amzn.to/2n2K9UE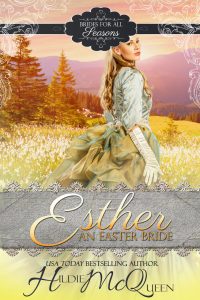 Blurb:  Unrealistic expectations can lead two people down a trail to despair.
After the untimely death of her husband, Esther Wilmington must choose between pauper's life as a poor widow in Philadelphia or a marriage of convenience to her late husband's son. However, she is presented with a third option she couldn't have imagined: moving west as a mail order bride.
Elias Jones likes the idea of a wife but quickly discovers how complicated it is to share his home, his bed, and his life with someone. Perhaps he was hasty in marrying. But he soon realizes he cannot imagine a life without his new bride.