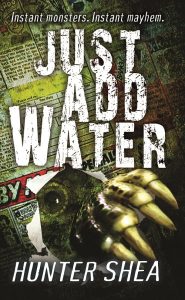 Why He's a 'Hammock Guy" by Hunter Shea
It's hard being a hammock kind of guy when you live in New York. Down here in the Big Apple, hammocks are about as commonplace as hula skirts. My idea of paradise is a hammock with a pile of good books on one side and an icy bucket of beer on the other.
So, when I load the family into our Jeep for the annual Shea vacation, it's important we go someplace where I can swing between a couple of trees. That's part of the reason why we go to Maine every summer. Their state slogan is The Way Life Should Be and I'm hard pressed to argue with them.
We've been going to the same place in the Lakes Region of Maine since 2000. Our back porch has a wonderful view of the lake at the bottom of a sloping lawn. Trees surround us, leaves whispering softly in the wind, the call of the loons singing us to sleep.
On the shore of the lake is a wonderful hammock that may not have my name on it, but it is contoured to the shape of my reclining body. Most days, I grab a portion of my To-Be-Read pile early in the morning and amble on down to my little slice of paradise. I actually save up reading material throughout the year for my quality hammock time. My stack of magazines, books, pamphlets and comics gets smaller and smaller as I swing and read, breathing in fresh air and waving to folks gliding by in their kayaks.
I love the peace in Maine. When I'm in that hammock reading a comic book (I know people like to call them graphic novels, but let's face it, they're comic books), I feel like a kid again, my only concern being when dinner will be served. The stress of the past year drips between the weave of the hammock, soaking into the earth. Tales of super heroes battling a host of evil doers turn back the clock, but not so much that I'm no longer of legal age to sip a cold IPA.
A few years ago, I filmed the empty hammock rocking in a soft breeze, the water gently lapping at the rocky shore. Whenever I feel the world crashing down around me, I whip out my phone and watch the one-minute video. In that moment, I'm right there, the pads of my fingers feeling the weight of comic book paper, the hops of a local IPA bitter on my tongue, the sweet smelling wind tickling my face.
Maybe I'm more than just a hammock guy. Maybe I'm a Maine hammock guy. Guess I'll have to string a hammock between the light poles down on 8th Avenue and give it a test.
JUST ADD WATER………….
GROW AMAZING LIVE SEA SERPENTS!
It's fun! It's easy! They only cost a measly dollar. Just clip out the ad in your comic book. Then ask Mom to mail it in. A few weeks later, receive a packet of instant Sea Serpent dust. Then:
Just add water . . . and watch them grow!
WHAT COULD GO WRONG?
Just ask David and Patrick. Their "instant pets" are instant duds. They don't hatch, they don't grow, they don't do anything. So they dump them into the sewer where Dad pours toxic chemicals . . .
WAIT UNTIL FEEDING TIME.
It's been years since David and Patrick thought about those Sea Serpents. But now, small animals are disappearing in the neighborhood. Strange slimy creatures are rising from the sewers. And once the screaming starts, David and Patrick realize that their childhood pets really did come to life. With a vengeance. They're enormous . . . and have a ravenous hunger for human flesh . . .
You can purchase JUST ADD WATER at:
Amazon: http://www.amazon.com/s/?field-keywords=9781516102792
Apple: http://itunes.apple.com/us/book/isbn9781516102792?uo=8
B&N: http://www.barnesandnoble.com/s/9781516102792
Google: https://play.google.com/store/search?q=9781516102792&c=books
Kobo: http://www.kobobooks.com/search/search.html?q=9781516102792
About the Author: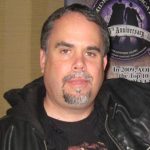 Hunter Shea is the product of a misspent childhood watching scary movies, reading forbidden books and wishing Bigfoot would walk past his house. He's the author of over 17 books, including The Jersey Devil (Pinnacle) and We Are Always Watching (Sinister Grin). Hunter's novels can even be found on display at the International Cryptozoology Museum. The Montauk Monster was named one of the best reads of the summer by Publishers Weekly. He was selected to be part of the launch of Samhain Publishing's new horror line in 2011 alongside legendary author Ramsey Campbell. When he's not writing thrillers and horror, he also spins tall tales for middle grade readers on Amazon's highly regarded Rapids reading app. His video podcast, Monster Men, is one of the most watched horror podcasts in the world. Living with his crazy and supportive family and two cats, he's happy to be close enough to New York City to see the skyline without having to pay New York rent. You can follow his travails at www.huntershea.com.

Author Links:
Website: www.huntershea.com
Twitter: https://twitter.com/huntershea1
Facebook: https://www.facebook.com/huntershea1