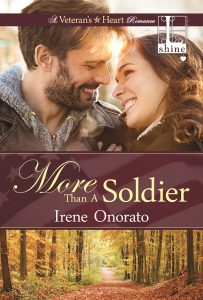 Soldiers…by Irene Onorato
I can't help but love them. My father, brother, husband, and son all served in the U.S. Army. When I first started writing, it seemed quite natural for the heroes in my stories to be active or former military men.
More Than a Soldier, my latest novel, features a wounded hero who was the sole survivor in an RPG attack. Despite losing an eye and the hearing in one ear, Hank Fleming maintains a positive attitude and is determined to live his life to the fullest. Now medically discharged from the Army, Hank meets Cindy Giordano, his foster brother's biological sister, and falls hard for her.
The road to happily-ever-after is paved with plenty of potholes. For Hank, latent PTSD manifests itself in terrible dreams that make him relive the day of the explosion and mourn the deaths of the men who were killed. And for Cindy, betrayal by a former fiancé keeps her heart locked up tightly. Hank hopes he is the key that will free Cindy and allow her to love again.
More Than a Soldier is the second book in the Veteran's Heart series. Though a stand-alone novel, characters from A Soldier Finds His Way are carried over and several new ones are introduced.
So, what was my inspiration for writing about a wounded warrior with PTSD? As a child my room was next to my parent's bedroom. Dad worked nights and slept during the day. I would often hear him cry out in his sleep, reliving the horrors of WWII. For him, sleep opened a gateway to a forever war. Lodged in the vertebra in the back of his neck he carried an inoperable piece of shrapnel. While the headaches it initially caused had disappeared over the years, the protruding lump served as a reminder of the battles he'd fought and the men he'd served beside.
More Than a Soldier cannot erase the ongoing trauma my father lived, but it serves as a reminder to me—and hopefully others—of the sacrifice of our military. And in some small way as a tribute to my dad and the hero he was.
More Than a Soldier……
There's more than one way to be a hero . . .
Former Special Forces soldier Hank Fleming is living a safe, quiet life in upstate New York, but there are days he isn't sure he's going to make it. The sole survivor of a devastating grenade attack in Afghanistan, he is still scarred, physically and emotionally. He hangs on to his faith and tries to keep moving forward, waiting for the day that something—or someone—can make him feel whole again.
Cindy Giordano is searching too—for her biological family and a fresh start. When her journey to find her brother, Edward, leads to Hank's front door, she is instantly drawn to Hank . . . and instantly wary. With her ex-fiancé's betrayal still fresh in her mind, friendship is about all she can muster.
When shadows from Cindy's past threaten, Hank's protective instincts shift into high gear, and he realizes everyone has their own battles to fight. But the road to healing would be much sweeter with the right person by his side . . .
You can purchase MORE THAN A SOLDIER at:
Kensington Books
About the Author: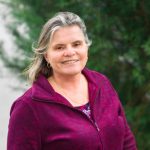 Irene Onorato was born and raised in Bronx, New York. Her father, a first-generation American whose parents were born in Italy, was an Army veteran who had served with the 178th combat engineers during WWII. He told numerous stories of battles, hardships, tragedies and triumphs. The glimpses he gave into the hearts of many American warriors would later become the inspiration for much of Irene's writings.
In 1972, a few months after graduating high school, Irene met James Onorato, a soldier who had just returned from Vietnam. After dating two weeks, they married, raised three children, and are still happily married today.
Author Links:
Author's web page:                        https://ireneonorato.com
Author's blog:                                   https://ireneonorato.com/blog/
Facebook:                                           https://www.facebook.com/AuthorIreneOnorato/
Twitter:                                                www.twitter.com/IreneOnorato
Goodreads:                                        https://www.goodreads.com/IreneOnorato
Amazon Author Page:                    https://amazon.com/author/ireneonorato