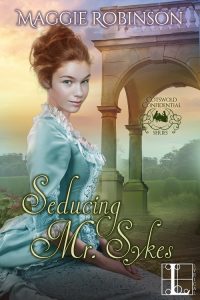 "Green Fingers"by Maggie Robinson
Green fingers. That's the British expression for "green thumb," and it sounds so much more powerful when all your ten digits flex and help things grow. I have a modest cottage-style garden in front of our house which gives me pleasure far beyond its size, and I confess it has been the beneficiary of a few other people's fingers other than my own.
The house was a new-build and half-heartedly landscaped before we bought it in May 2010. My middle daughter is a professional gardener, and she soon arrived with shrubs, perennials, and compost, ensuring a continuous wave of color as the seasons progressed. My husband dug deep holes for me every time I came back from the nursery with more enthusiasm than energy. Our lawn guy Mike even got in on the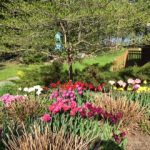 "fun," and has helped me plant hundreds of daffodil, tulip, iris, and lily bulbs over the past seven years. He's just as excited as I am to see that the chipmunks haven't eaten everything each spring, and believe me, those chipmunks are determined little rascals, stealing birdseed from the feeders and chowing down plump, juicy strawberries in the raised bed the very second they are ripe.
During last summer's drought, I watered every day without fail. It was very Zen, centering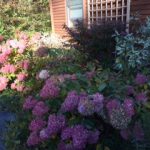 and relaxing as I held the hose and watched the iridescent hummingbirds dart among the drops. I spent an hour thinking—or not thinking—when I could have easily hooked up the sprinkler. But I was watching my garden grow, a great privilege. Stopping to smell the roses as it were, although I must say I've had rotten luck with the climbing roses we put in that just won't climb.
Tristan, the hero of Seducing Mr. Sykes, is an architect by trade but a gardener at heart. He's created a memorial garden for his late brother, which has helped him heal from the loss. It's in that garden that he discovers life can begin anew when he encounters his unwanted houseguest, Lady Sarah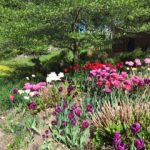 Marchmain. Brighter than any rose but prickly as its thorns, Sadie shows Tristan there's more to her than he expects. Love can bloom from the smallest of seeds…as long as the chipmunks don't get them first!
Seducing Mr. Sykes by Maggie Robinson …………..

In Maggie Robinson's sparkling new series, a quaint village in Gloucestershire is where the wayward sons and daughters of Great Britain's finest families come for some R&R—and good old-fashioned "rehab". But sometimes they find much more…
No one at Puddling-on-the-Wold ever expected to see Sarah Marchmain enter through its doors. But after the legendary Lady's eleventh-hour rejection of the man she was slated to marry, she was sent here to restore her reputation…and change her mind. It amused Sadie that her father, a duke, would use the last of his funds to lock her up in this fancy facility—she couldn't be happier to be away from her loathsome family and have some time to herself. The last thing she needs is more romantic distraction…
As a local baronet's son, Tristan Sykes is all too familiar with the spoiled, socialite residents of the Puddling Rehabilitation Foundation—no matter how real their problems may be. But all that changes when he encounters Sadie, a brave and brazen beauty who wants nothing more than to escape the life that's been prescribed for her. If only Tristan could find a way to convince the Puddling powers-that-be that Sadie is unfit for release, he'd have a chance to explore the intense attraction that simmers between them—and prove himself fit to make her his bride…
You can purchase Seducing Mr. Sykes at:
https://www.amazon.com/Seducing-Mr-Sykes-Cotswold-Confidential-ebook/dp/B01M1IZSQW/
https://www.kobo.com/us/en/ebook/seducing-mr-sykes
https://itunes.apple.com/us/book/seducing-mr.-sykes/id1175889147?mt=11
http://www.barnesandnoble.com/w/seducing-mr-sykes-maggie-robinson/1124690490?ean=9781516100019
https://play.google.com/store/books/details/Maggie_Robinson_Seducing_Mr_Sykes?id=WZYiDQAAQBAJ
About the Author: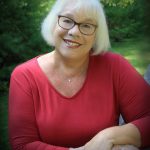 Maggie Robinson is a former teacher, library clerk and mother of four who woke up in the middle of the night, absolutely compelled to create the perfect man and use as many adjectives and adverbs as possible doing so. A transplanted New Yorker, she lives with her not-quite perfect husband in Maine, where the cold winters are ideal for staying inside and writing hot historical romances. A two-time Romantic Times Reviewers' Choice nominee, her books have been translated into French, German, Portuguese, Turkish, Russian, Japanese, Thai, Dutch and Italian.

Author Links:
Website: www.maggierobinson.net
Twitter: https://twitter.com/maggielrobinson
Facebook: https://www.facebook.com/MaggieRobinsonBooks/