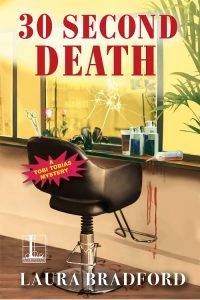 Familiar Faces by Laura Bradford
(30 Second Death—Tobi Tobias Mystery #2)
One of my favorite parts of writing a series is the way the characters become like old friends. Between books, when I'm not actively writing a particular group of characters, I often times find myself wondering what they're doing, where they're hanging out, et cetera.
Sometimes, when I'm in the car for a while, one of them invariably starts chattering in my head. I try to tell myself this is just my writerly muse helping me plot. But the part of me that's been writing mysteries for a lot of years knows it's more that. You see, these characters are real to me, just as they are for my readers. I know what makes them tick, what upsets them, and what they want more than anything else in the world. They make me laugh, they drive me up a wall on occasion, I miss them when they're not around, I get sick of them when we've spent too much time together, and they make me feel like I always have a place with them.
This has never held true more than with the characters in my Tobi Tobias Mysteries. There's something about Tobi that is easy to connect with. She's very real. She makes mistakes, she puts herself down, she's impulsive in some ways, and methodical in others. And her friends? I want to be their friend, too. They're funny, quirky, always happy to provide a reality check when necessary, and fiercely loyal. And to me, that's a huge part of this series: Tobi's friends. Sure, she's the main character, but the people in her world (Carter, Mary Fran, Sam, Andy, Grandpa Stu, and even Rudder Malone) help humanize her and make her shine—just like the core people in our lives do for us.
So if you're looking for a little fun and an opportunity to hang out with a really cool crew for a few hours, give my Tobi Tobias Mysteries a try. Death in Advertising (Book # 1) and 30 Second Death (Book # 2) are both available now.

30 SECOND DEATH……………
To help an old friend, Tobi Tobias gets a third-rate thespian a part in a commercial, and learns that in the advertising business, bad acting can lead to murder . . .
When Tobi Tobias opened her own advertising agency, Carter McDade was there for her every step of the way. A brilliant hairdresser, Carter has just landed his dream project: doing hair and makeup for a theatrical production of Rapunzel. But the dream turns into a nightmare when he runs into Fiona Renoir, a cruel, talentless starlet who won't let Carter touch a hair on her head.
To get Fiona out of Carter's hair, Tobi hires the difficult actress for a bit part in her latest commercial. But true to character, Fiona is a terror on set, and Tobi is starting to think she's made the biggest mistake of her life. But things get even worse when Fiona drops dead in the hairdresser's chair, and the only suspect is the man left holding the tainted hair dye, Carter McDade. And unless Tobi can prove his innocence, he'll never do hair in this town again.
You can purchase 30 SECOND DEATH at:
Amazon
Barnes & Noble
Apple iBookstore
Google
Kobo   
About the Author: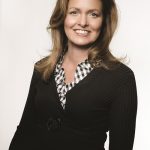 Laura Bradford is the national bestselling author of several mystery series, including the Tobi Tobias Mysteries, the Emergency Dessert Squad Mysteries, the Amish Mysteries, the Jenkins & Burns Mysteries, and The Southern Sewing Circle Mysteries (the latter under the pen name, Elizabeth Lynn Casey). In summer 2018, Laura will debut her first Amish Women's fiction novel, Portrait of a Sister. She is a former Agatha Award nominee, and the recipient of an RT Reviewer's Choice Award in romance. When she's not writing, Laura enjoys making memories with her family, baking, and being an advocate for those living with Multiple Sclerosis.
To learn more, visit her website: www.laurabradford.com, or hang out with her on Facebook at:  https://www.facebook.com/laurabradfordauthor/?fref=ts. She can also be found occasionally tweeting at: @Bradfordauthor.
Author Links:
Website:    www.laurabradford.com
Twitter: https://twitter.com/bradfordauthor
Facebook:  https://www.facebook.com/laurabradfordauthor/