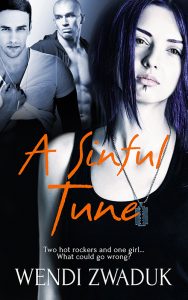 A Sinful Tune by Wendi Zwaduk
From the Three's a Charm Anthology
Two hot rockers and one girl…what could go wrong?
Robbie thought when he formed his band he'd get the girls, the gigs and the money. He's got the gigs, but the money is a little slower in coming. He's also got more than a few secrets. He wants the band to succeed, but even more, he wants to find the one woman who can accept him—warts and all, but also with his best friend Dillon involved.
Dillon loves Robbie like a brother. Robbie's his other half in the music world. He handles the words while Robbie writes the music for the band. But all the music in the world isn't enough if they don't have their perfect third—Jess. She hits all the right notes for him and Robbie. The only issue? She may not accept their love in return.
Jess has followed the band for years and worked her way up to selling their merchandise. She knows their music almost as well as they do, but doubts they'd want to be with her. She's so unlike the other women they've had—she's short, curvy and a purple-haired Goth. When Robbie and Dillon hang out with her after one of the gigs, she has a choice to make. Either head home and wonder or let go of her fears and give the two men of her dreams the chance to make her fantasies come to life.
Reader Advisory: This book contains scenes ADULT CONTENT.
Publisher's Note: This book has previously been released as part of the Three's a Charm anthology with Totally Bound Publishing.
https://www.totallybound.com/book/a-sinful-tune
https://books2read.com/u/mZ5wEe
http://wendizwaduk.com/
http://about.me/wendi_zwaduk
Wendi Zwaduk – White Hot Second Chance Romance
http://wendizwaduk.com/indexMegan.htm
Megan Slayer – It's Always Fun to Squirm
Subscribe to our newsletter ~ http://ymlp.com/xgjmjuygmgj
About the Author:
I've always dreamt of writing the stories in my head. Tall, dark, and handsome heroes are my favorites, as long as he has an independent woman keeping him in line.  I love playing with words and letting the characters run wild.
NASCAR, Ohio farmland, dirt racing, animals and second chance romance  all feature prominently in my books.  I also write under the pen name of Megan Slayer. I'm published with Ellora's Cave, Total-E-Bound, Changeling Press, Liquid Silver Books, Turquoise Morning Press, Decadent Publishing.   Come join me for this fantastic journey!