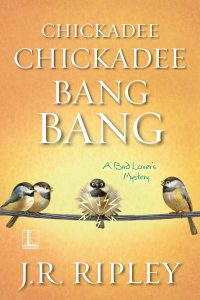 Chickadee Chickadee Bang Bang by JR Ripley
Bird Lover's Mystery #5
Ruby Lake, North Carolina, might be the perfect place to go birdwatching during autumn, but it's also a habitat for murder . . .
As Birds & Bees owner Amy Simms guides a halfhearted birding group around Ruby Lake, rumors soon start flying about the annual Fall Festival's classic car and tractor show. Local eccentric Chick Sherman—boasting the hottest ride in town—has ruffled feathers by mysteriously entering the contest, and curious Amy hatches a plan to sneak a glimpse at the phantom automobile before the big event kicks off . . .
But competition turns deadly when Amy finally spots the sleek '56 El Morocco—and it's on top of Chick's very dead body. With her neighbor and business partner framed as the murderer and priceless Audubon prints suddenly missing from Chick's home, only Amy can identify the telltale markings of a killer before another hapless victim is plucked from the flock . . .
EXCERPT
"When you were in the barn, did you see a jack?"
"Yes, so?" I flailed my arms in the air. "I saw it, Chief Kennedy and half the police force saw it!"
"It was broken."
"And your point is?"
"It looked like it had been done intentionally."
I narrowed my eyes at him. "What makes you think so?"
"The pin holding the axle support in place had been sheared off."
My breath caught in my throat. A few minutes ago, while the possibility of murder had hung in the air, the probability of it had suddenly come slashing down like the sharply honed blade of a French guillotine. "So you do think it was murder? You think someone snuck up on Chick and broke the jack? With him under the car?"
Paul bobbed his head and I shivered. That was a cold and brutal move . . .
YOU CAN PURCHASE CHICKADEE CHICKADEE BANG BANG AT:
Kensington Books
ABOUT THE AUTHOR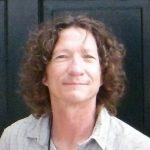 In addition to writing the Bird Lover's mystery series, J.R. Ripley is the critically acclaimed author of the Maggie Miller mysteries and the Kitty Karlyle mysteries (written as Marie Celine) among other works. J.R. is a member of the American Birding Association, the American Bird Conservancy, and is an Audubon Ambassador with the National Audubon Society. You may visit www.JRRipley.net for more information or visit JR on Facebook at www.facebook.com/JRRipley.
AUTHOR SOCIAL MEDIA LINKS
Website: www.JRRipley.net
Twitter: www.twitter.com/JRRipleyAuthor
Facebook: www.facebook.com/JRRipley