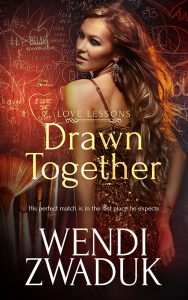 Drawn Together – Book one in the Love Lessons Series
By Wendi Zwaduk
His perfect match is in the last place he expects—across the courtyard.
Graig Case wants to teach history and coach baseball. Plain and simple. But nothing in his life has been simple. He's also got a secret. He loves to watch the sexy woman across the courtyard dance. He'd love for his fantasy girl to be his best friend, but fantasy and reality don't always mix.
Tessa Martin has given up on love. She's played second fiddle most of her life. Guys like hanging out with her. Being one of the guys doesn't keep her warm at night. Still, she indulges in her one treat—dancing for Graig. No emotions involved means no one gets hurt.
Except when they end up working in the same school in the same hallway…then all bets are off.
Reader Advisory: This book contains ADULT CONTENT.
Publisher's Note: This book has previously been released elsewhere. It has been revised and re-edited for re-release with Totally Bound Publishing.
General Release Date: 26th September 2017
 https://www.totallybound.com/book/drawn-together
http://wendizwaduk.com/
http://about.me/wendi_zwaduk
Wendi Zwaduk – White Hot Second Chance Romance
http://wendizwaduk.com/indexMegan.htm
Subscribe to our newsletter ~ http://ymlp.com/xgjmjumygmgj
About the Author:
I've always dreamt of writing the stories in my head. Tall, dark, and handsome heroes are my favorites, as long as he has an independent woman keeping him in line.  I love playing with words and letting the characters run wild.
NASCAR, Ohio farmland, dirt racing, animals and second chance romance  all feature prominently in my books.  I also write under the pen name of Megan Slayer. I'm published with Ellora's Cave, Total-E-Bound, Changeling Press, Liquid Silver Books, Turquoise Morning Press, Decadent Publishing.   Come join me for this fantastic journey!