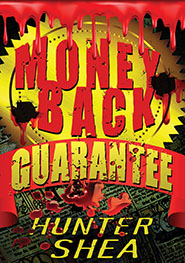 MONEY BACK GUARANTEE by Hunter Shea Mail Order Massacres
With her son's heart set on piloting his own nuclear submarine, Rosemary Lanchester orders a children-sized craft advertised on the back of a comic book. What arrives is more sub-standard than submarine, but her son loves the cheap piece of cardboard. Until he and a friend nearly drown when they take the sub for a deep sea dive in the swimming pool. Enraged, Rosemary reports the toy's manufacturer to the Better Business Bureau. The company's customer service center retaliates with threatening phone calls. Then her son and husband mysteriously disappear. To save her family, Rosemary tracks down the company's headquarters with the help of her brother—a survivalist with enough toys of his own to wage an all-out war.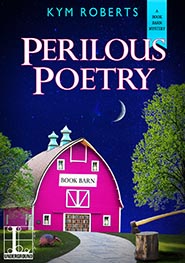 PERILOUS POETRY by Kym Roberts A Book Barn Mystery #3
Bookstore owner Charli Rae Warren and her pet-pink armadillo can't believe writer Lucy Barton has agreed to promote her latest Midnight Poet Society novel at The Book Barn Princess. The event will utilize The Book Seekers app, a smartphone app, which sends fans on a virtual scavenger hunt around town for a chance to meet the bestselling author. But as soon as it goes live, someone uses the app to track victims and copycat the fictional Midnight Poet Society homicides, and horrified locals suspect Jamal could be the mastermind behind the crimes. Now, it'll take true grit for Charli to shelve the culprit before her brainy cousin gets locked behind bars.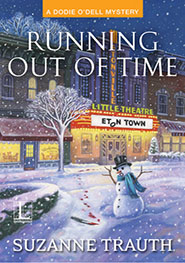 RUNNING OUT OF TIME by Suzanne Trauth A Dodie O'Dell Mystery #3
Restaurant manager Dodie O'Dell is tasked with stocking the Etonville Little Theatre's concession stand with colonial-era desserts and drinks for their latest local production. But the talented manager is shocked when, on opening night she runs into an agitated actress backstage with blood on her hands. Then a stranger is found among the chairs set for a graveyard scene with a knife in his chest. The show will not go on—the theatre is now a crime scene. Hoping to clear the red-handed suspect, Dodie returns to the role of amateur sleuth to mull over the clues and beat the backstage stabber to the punch—before someone else becomes history . . .