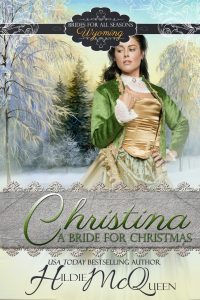 Mail order bride book set in the 1870s.  The story of a young widow whose misery husband has left her not just shunned by society, but also, without much in the way of recourses for a future.  She befriends a woman who has started a mail-order business and decides a husband out west could be the answer to her dire situation.
Unrealistic expectations can lead two people down a trail to despair.
After the untimely death of her husband, Esther Wilmington must choose between pauper's life as a poor widow in Philadelphia or a marriage of convenience to her late husband's son. However, she is presented with a third option she couldn't have imagined: moving west as a mail order bride.
Elias Jones likes the idea of a wife but quickly discovers how complicated it is to share his home, his bed, and his life with someone. Perhaps he was hasty in marrying. But he soon realizes he cannot imagine a life without his new bride.
Excerpt from Christina, A Bride for Christmas.
Hat in his left hand and cane in his right, with each step he took, he leaned toward the right, his upper body swaying. Although he walked with a pronounced limp, the assuredness in his demeanor by the square of his shoulders and head held high came across as confidence.
Slants for brows over almond-shaped, dark brown eyes competed for attention with a strong dimpled jaw and full, sensuous lips. As he neared, it was evident that he'd recently gotten his thick, coffee brown locks cut.
Barrett was the most handsome man she'd ever seen. Suddenly, heat surfaced to her neck and face and Christina fought not to meet his gaze knowing he'd notice her eyes were swollen and her nose reddened from crying.
"Hello, Barrett. How are you today?" Olive held out a hand and the tall man squeezed it.
His gaze moved to Christina and back to Olive. "I am well."
"This is Christina Mills, she's just moved to our town. We are going to visit Mrs. Wilkes to inquire about a temporary position."
Barrett nodded at her and touched the brim of his hat. "Welcome to Blanchard Creek, Miss Mills."
Too flustered to speak, Christina nodded in return and attempted at a smile. When she looked down to the dog at his side, it became easier to relax.
"This is Fella. Say hello to the ladies, Fella."
The huge dog lowered and lifted his head and then held up his right paw.
"Isn't that precious?" Olive exclaimed. "I hadn't seen him do that before."
Barrett beamed. "Just taught him that trick."
They continued to walk, now a trio. Olive slid a look to Barrett.
"What were the Blooms complaining about this time?"
"Nothing of importance," he replied and cleared his throat.
One could spend hours looking at someone so attractive. Although obviously injured in some way, there was no doubt he garnered women's attention. Refreshing to note, he greeted passersby and continued the conversation about a friend and his wife expecting and making a crib. The man did not seem arrogant in the least.
A thought struck. Could it be he was related to the man she was due to marry? Perhaps the limp was genetic to his family. There wasn't a way to ask him at the moment. Perhaps she'd be able to find out from Olive, later.
There were too many coincidences to the man she'd written. Alexander also had a dog and held a cane. The picture was too blurry to be sure, but it had to either be this man or a relative of his.
They arrived at what looked to be an eating establishment and, immediately, Fella let out an exited bark and rushed off around the back of the building.
"Come, Christina. Let's meet Mrs. Wilkes and you can tell us everything." Olive took her arm and guided her to the back of the building.
Christina held her breath. Would Barrett be present? Hopefully not.
Yet, a part of her hated to part ways with him.
YOU CAN PURCHASE CHRISTINA – A BRIDE FOR CHRISTMAS AT:
Amazon
About the Author:
USA Today Bestselling author Hildie McQueen loves unusual situations and getting into interesting adventures, which is what her characters do as well. She writes romance because she is in love with love! Author of Romance in Highland historical, Western Historical and contemporary, she writes something every reader can enjoy.
Most days she can be found in her pajamas hiding from deliverymen while drinking tea from her David Gandy coffee mug. In the afternoons she browses the Internet for semi-nude men to post on Facebook.
Hildie's favorite past-times are romance conventions, traveling, shopping and reading.
She resides in beautiful small town Georgia with her super-hero husband Kurt, an unruly boy Chihuahua Pepito and a spoiled rotten girl Chiweenie named Lola.
Facebook: https://www.facebook.com/HildieMcQueen
Instagram:  https://www.instagram.com/hildiemcqueenwriter
Twitter: https://twitter.com/HildieMcQueen