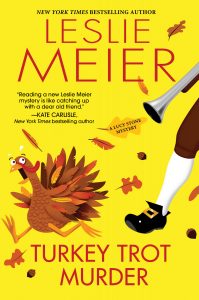 TURKEY TROT MURDER from Leslie Meier
 A Lucy Stone Mystery
It's late autumn in Tinker's Cove, Maine, and the last surviving flowers on Lucy Stone's porch have fallen victim to the first frost of the season. But as the part-time reporter learns, this cold November morning will claim more than potted plants . . .
Besides the annual Turkey Trot 5K on Thanksgiving Day, Lucy expects the approaching holiday to be a relatively uneventful one—until she finds beautiful Alison Franklin dead and frozen in Blueberry Pond. No one knows much about Alison, except that she was the daughter of wealthy investor Ed Franklin and struggled quietly with drug addiction. Police blame her death on an accidental overdose, but Lucy can't understand what terrible forces could lead a privileged woman to watery ruin . . .
Alison's funeral service is just as puzzling. Many believe Ed's young—and very pregnant—new wife, Mireille, divided the family, leaving Alison to wither on the vine. Did Mireille truly adore her stepchild as Ed claims, or did she pit father against daughter for personal gain?
As a state of unrest descends on Tinker's Cove, Lucy is thrown into a full-scale investigation. Now, in a race against time, Lucy must beat the killer to the finish line—or she can forget about stuffing and cranberry sauce . . .
EXCERPT
It was all over the morning TV news—the season's first killing frost. It came later than usual, probably due to global warming. That was the theory, anyway. But come it did, finally, coating each blade of grass with sparkly white rime, sealing automobile windows with a thick layer of frost, reducing late green tomatoes to black mush, and changing chrysanthemum plants, whose color had faded weeks before, into shriveled black stumps.
Alison Franklin didn't notice these changes, but she did sense the sharp nip in the air as she stepped out onto the flagstone patio of her father's house in Maine. She zipped up her fleece jacket and jogged down the long drive to begin her morning run. She usually went one of two ways. One route took her along scenic Shore Road with its ocean views and the other wound through the woods on old logging roads and circled around Blueberry Pond. A cold northeast breeze was blowing off the water so Alison chose the more sheltered woodland path.
She was rounding the loop that led to Blueberry Pond when she heard the cries. It was nothing more than a yelp at first, a cry that could be the call of a crow or perhaps the yip of a fox. The calls came louder and grew clearer as she drew nearer to the pond.
Realizing someone was calling for help she quickened her pace and soon spotted a familiar figure standing on the shore of the frozen pond. She'd been spotted so it was too late to turn around. Nothing for it except to make the best of the situation.
"Alison! Thank God you're here!"
"What's the matter?" she asked somewhat reluctantly.
"It's Scruffy! He ran out onto the pond and I think he's fallen through."
Alison studied the pond, which had a coat of new ice.
"Are you sure? There are no tracks in the ice and I don't hear him crying."
"Of course I'm sure! Why would you doubt me? Listen, listen! Can't you hear him? Oh, the poor thing. He's growing weaker . . ."
Once again Alison turned to the pond, casting her eyes along the irregular shore which was littered with large boulders, glacial erratics, most now covered with a thin layer of soil that supported bushy balsam pines and gnarled blueberry bushes, all hanging on for dear life. This growth made it impossible for her to get a clear view of the entire shore or to see exactly where Scruffy had gone through. She concentrated on listening for the poodle, hoping his cries might direct her, but all she heard was the sighing of the wind in the trees and the groaning protest of bare branches thrown against each other.
"Stop dithering! Poor Scruffy. He can't hang on much longer!"
There was no way out, decided Alison with a sigh of resignation. The undergrowth along the shore was too dense for her to make her way around the pond without a machete, which she didn't happen to bring along on her morning run. The only way she could find Scruffy was by going out onto the freshly frozen surface of the pond.
The ice cracked ominously as she ventured forth, staying as close to the shore as possible, but it held and she gained confidence as she proceeded. A small spit of land covered with brushy growth extended into the pond and she made her way along it, grabbing onto overhanging branches for safety. Once she got to the end of the spit she figured she would have a better vantage point from which to spot Scruffy.
She was almost there when a patch of reeds forced her farther from the shoreline. There was a sudden loud crack and the ice beneath her gave way, plunging her into the frigid black water. Her cries for help were loud and strong, shattering the early morning calm, but no one answered.
YOU CAN PURCHASE TURKEY TROT MURDER AT:
Kensington Books

ABOUT THE AUTHOR: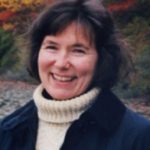 Leslie Meier is the acclaimed author of sixteen Lucy Stone mysteries and has also written for Ellery Queen's Mystery Magazine. She lives in Harwich, Massachusetts, where she is currently at work on the next Lucy Stone mystery.
AUTHOR SOCIAL MEDIA LINKS
Website: www.LeslieMeierBooks.com
Twitter: www.twitter.com/LSMeierBooks