Perfect Scents from Virginia Taylor
Romance By Design #2
Two unsuspecting lovers stumble upon the blueprint for love . . .
Calliope Allbrook takes a job in lovely, sunny Adelaide, Australia, hoping to lose herself in her work as a balm for her broken heart. And if it weren't for the handsome hunk renovating the house next door, Calli would never even have looked up from the garden she is designing for her latest client. But rugged Kellen Dee is just the cure the beautiful heiress needs. After all, he has no idea who she is, so he certainly won't see her as a meal ticket. Then there's the fact that Kell's deliciously sexy—and incredibly good with his hands . . .
From the moment Kell takes her in his arms, he knows Calli is more than just a fling. Then the blue collar bachelor learns he's not sharing his bed with just any woman, but the wealthy daughter of the man who could make Kell's construction business a success—and Kell the kind of well-heeled man worthy of Calli's love. But he'll have to be careful his ambitions don't trip up his heart . . .
EXCERPT
She jogged back up the hill with the makings of her lunch. The cat made a faint mewing sound as she entered the cottage.
"No, I didn't forget you," she said, using a throaty whisper and a faked smile. She tried clearing her throat again. "Who could? Now, look what I bought for you. Why don't you move yourself off that nice clean carpet and come into the kitchen to eat?"
The cat blinked, slowly stood, and slithered over to her, making that strange noise the whole time.
"Food." Calli winced in revulsion as filthy fur touched her leg. "Follow me." She went into the kitchen area and opened the can. The stench of fish wafted out. "Ah, the aroma of the sea. Nice fish. Yum, yum. C'mon, c'mon. That's me calling you without a voice."
The cat wearily subsided on the floor near the couch.
YOU CAN PURCHASE PERFECT SCENTS AT:
Kensington Books
ABOUT THE AUTHOR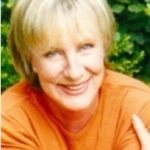 After training at the South Australian School of Art, Virginia worked in an advertising agency. This segued into re-training as a nurse/midwife before meeting the man of her dreams, marrying and producing two children.
Over the years Virginia has been a theatre set painter and designer, but now she fills her days as a full-time writer.
AUTHOR SOCIAL MEDIA LINKS
Website: www.Virginia-Taylor.com
Twitter: www.twitter.com/AuthorVTaylor
Facebook: www.facebook.com/AuthorVirginiaTaylor