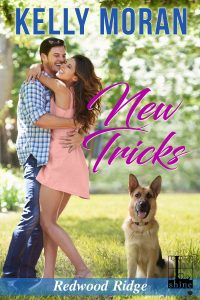 Kelly Moran and How Her Grandmother's Love Impacts her Writing
Hello, everyone! Great to be here.
Kensington/Lyrical launched my new small town rom-com series Redwood Ridge in 2017. New Tricks is the third book and releases in September. What I loved most about this series is that the animals are like secondary characters. I'd been wanting to write a small town series for quite awhile and also had veterinarians in mind for potential heroes. I've always been an animal lover and my best friend is a vet tech. The stories she tells me? Hilarious! But these stories also have another element, too. Each one has a different disability incorporated into the plot. The heroine's daughter in Puppy Love has autism. The hero in Tracking You is deaf. The heroine's mother in New Tricks has early-onset dementia. That last component for the third book hits very close to home.
Before she passed away, my grandmother had dementia. She was maybe four and a half feet tall, weighed ninety pounds at her heaviest, but she was the strongest person I know. She raised two kids on a secretary's salary after her husband bailed, and she was always the first person to lend a hand. Family was everything to her, and she had to bury her parents, her brothers, and her sister–all at an early age. Of all the loved ones in my life, she was the loudest voice telling me to keep writing, keep at it, and never give up.
Unlike a lot of people diagnosed with this condition, her decline wasn't gradual, but quick. It seemed overnight she went from arguing politics and doing crossword puzzles to forgetting the basic of things. In the end, it took cues to remember me. And that broke my heart. There is nothing worse than watching someone you love slip into a black void of nothing, and be helpless to stop it. That personal, gutting aspect was how I wrote my heroine Zoe's struggles with her mom, and it was hard. Very hard.
Long before I started writing Redwood Ridge and before my grandmother grew ill, I managed elderly group homes for ten plus years. My responsibilities included medicine management, activity planning, and daily living therapy. Let me be the first to say, the job was as rewarding as it was frustrating. But it taught me a lot about life, love, and how precious memories are. Sadly, it also prepared me for what was to come with my own family.
This fragile thing called life can be taken from us at any given moment. More devastating is the possibility of who we are, what we stand for, every memory accumulated, can be stolen on the whim of a disease to which there is no cure. The best I can say or do is strive to go on as my grandmother taught me and pray that, at the end of my journey, I remember everything.
New from author Kelly Moran — New Tricks the third book in the Redwood Ridge series.
Loving someone is something you never forget how to do . . .
Zoe Hornsby has enough on her plate. Her pet grooming business tucked inside her friends' veterinarian clinic is busy, and all her free time outside of work is dedicated to caring for her mother's ailing mind. Dating is certainly not on her agenda. For all she cares, the town gossips of Redwood Ridge, Oregon, can set their matchmaking sights on someone else. Because no way would she consider sexy veterinarian Drake O'Grady her perfect guy. Once upon a time, she may have harbored a little crush, but he'd only had eyes for her best friend. And the crazy attraction building between her and Drake now? Down boy, down.
After Drake lost his wife to cancer, he's finally clawed his way out of grief and beginning to feel more like a part of the human race. But he's appalled to learn his prying family thinks he's ready to jump in the dating pool. And the woman they thrust at him couldn't be more inappropriate. As his dead wife's best friend, Zoe is off limits. Even if they seem to share a common sadness, she is too potent a personality to get romantically tangled with. Yet she's making his heart beat and blood roar like he never thought it could again.  And he doesn't want to just exist anymore . . .
Praise for the Redwood Ridge Romances!
"The chemistry is sizzling in this series opener." —Library Journal
"Full of warmth and heart. Laced with humor, tenderness and heat, Puppy Love is a winner." —RT Book Reviews, 4 Stars
"Puppy Love is a riveting romance that will pull at your heartstrings and not let go." —Patrice Wilton, New York Times bestselling author
Bestselling author Kelly Moran gets her ideas from everyone and everything around her and there's always a book playing out in her head. No one who knows her bats an eyelash when she talks to herself, and no one is safe from becoming her next fictional character. She is a Catherine Award Winner, Readers Choice Finalist, Holt Medallion Finalist, and earned one of the 10 Best Reads by USA Today's HEA. She is also a Romance Writers of America member. Her interests include: sappy movies, MLB, NFL, driving others insane, and sleeping when she can. She is a closet caffeine junkie and chocoholic, but don't tell anyone. She resides in Wisconsin with her husband, three sons, and two dogs. Most of her family lives in the Carolinas, so she spends a lot of time there as well. She loves hearing from her readers.
Please visit her atauthorkellymoran.com, twitter.com/authorkmoran, or facebook.com/authorkellymoran.