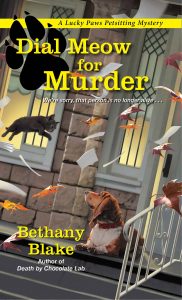 Creating a Cozy Place by Bethany Blake
Whether I'm getting lost in the magical halls of Hogwarts or wandering the windswept moors in Wuthering Heights, I've always considered setting a crucial part of any novel.
And when I read a cozy mystery, I want to discover a world that will charm me, and draw me back again and again. A spot full of restaurants and pubs that I wish I could really visit; quaint stores where I'd love to shop; and welcoming houses where I can imagine sipping tea with the characters I've met in the pages.
So when I decided to write my first Lucky Paws Petsitting Mystery, creating the lakeside village of Sylvan Creek was one of my first – happy – challenges.
Most important, Sylvan Creek is pet-friendly. My heroine, amateur sleuth Daphne Templeton, is a free-spirited pet sitter. Her world revolves around dogs and cats, and Sylvan Creek is full of critters. The shops along Market Street include an upscale pet boutique – Fetch! – and a unique salon for dogs and people, called Spa and Paw.
I love a good meal in a wonderful setting, so Sylvan Creek is also full of restaurants, from the Lakeside – the locals' favorite dive, on a pier in Lake Wallapawakee – to the upscale Wolf Hollow Mill, where two fireplaces burn in a stone structure that dates back to the Revolutionary War, and patrons' meals are accompanied by the "music" of water turning the old wheel on the side of the building. Daphne, her sister, veterinarian Piper, and her best friend, vintage-loving Moxie Bloom, also frequent Franco's, a dark, former speakeasy that's perfect for sharing confidences and clues over a glass of merlot.
The characters' homes are important, too. Piper lives at Winding Hill, a beautifully restored farmhouse, while Moxie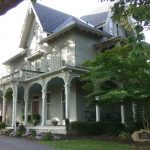 inhabits a quirky garret on the top floor of an old Victorian building. And handsome, enigmatic Detective Jonathan Black… Well, you'll have to read the first book, Death by Chocolate Lab, to learn about his living situation.
The village of Sylvan Creek becomes even more important in the second novel, Dial Meow for Murder. The setting for the homicide, which takes place near Halloween, is a spooky, reportedly haunted, mansion that casts long shadows over the lake – and the town's history. When a temperamental black cat named Tinkleston leads Daphne to a body, she starts off on an adventure that will lead her to a lonely orchard, an animal shelter that might not be quite what it seems, and a pet parade that meanders down a street lined with twinkle lights and jack o' lanterns.
I hope you'll join Daphne as she works to solve the mystery, sort out her feelings for Detective Black – and maybe find herself a new home that I think any cozy lover will long to inhabit. Of course, there's a stop at the Wolf Hollow Mill, too, for a snack at the gleaming, pine-plank bar.
If you'd like to recreate the simple, but elegant dish, Daphne orders, find yourself some really good goat cheese, slather it onto slices of freshly toasted baguette, and drizzle that with the best local honey you can find. Add a little bit of cracked pepper – plus maybe a mug of warm, mulled cider – and you're all set to curl up by the fire, or your own favorite place, with a good book this fall.
DIAL MEOW FOR MURDER by Bethany Blake 
A Lucky Paws Petsitting Mystery #2
Even an experienced pet sitter like Daphne Templeton can be fooled by animal behavior: how can an adorably tiny fuzz ball named Tinkleston be capable of sudden flying leaps with cat claws bared? But human behavior remains even more mysterious, especially when Tinkleston's owner is murdered on the night of a gala fundraiser for Fur-ever Friends Pet Rescue.
Accompanied by her unflappable basset hound, Socrates, Daphne plans to take charge of Tinks the Terror and leave the crime-solving to handsome detective Jonathan Black. But while luring the prickly Persian out of hiding, she uncovers clues that might take suspicion off her own mother. Maeve Templeton already has a reputation as a killer—in real estate. How far would she go to bag Sylvan Creek's most coveted property, the Flynt Mansion?
To expose the truth, Daphne finds herself donning a deranged clown costume on an autumnal adventure that might just be crazy enough to work—if it doesn't get her killed.
Includes recipes for homemade dog treats!
YOU CAN PURCHASE DIAL MEOW FOR MURDER at:
Kensington Books
ABOUT THE AUTHOR:
Bethany Blake lives in a small, quaint town in Pennsylvania with her husband and three daughters. When she's not writing or riding horses, she's wrangling a menagerie of furry family members that includes a nervous pit bull, a fearsome feline, a blind goldfish, and an attack cardinal named Robert.