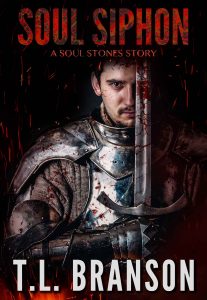 Soul Siphon a Short Story from T.L. Branson
Alexander Drygo, king of Sunbury, is reeling from the loss of his wife. Despite his best efforts using an incredible power, she is no longer among the living.
When a rival kingdom seeks to take advantage of this delicate time in Drygo's life, he is thrust into a battle for the future of his kingdom.
Can he save his people where he could not save his queen?
ABOUT THE AUTHOR:
T.L. Branson is the author of the upcoming Soul Stones series. Branson started writing when he was eighteen and has contributed articles to several blogs and websites over the years. Soul Render is his debut novel in a planned trilogy. He finds his inspiration from the king's (and queen) of story, J.R.R. Tolkien, C.S. Lewis, George Lucas, and J.K. Rowling. Born in Pennsylvania, he currently lives in California with his wife and two children.
acebook: http://facebook.com/tlbransonbooks/
Where readers can talk to me and join a community of YA Fantasy fans: YA Fantasy Fanatics https://www.facebook.com/groups/1763647643928256/
Goodreads: https://www.goodreads.com/book/show/36172318-soul-siphon
Amazon: https://www.amazon.com/gp/product/B075BLQ4BQ
B&N: https://www.barnesandnoble.com/w/soul-siphon-tl-branson/1127062180
Kobo: https://www.kobo.com/us/en/ebook/soul-siphon
Apple: On the iTunes bookstore