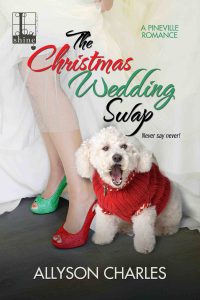 THE CHRISTMAS WEDDING SWAP from Allyson Charles
Pineville #4
Sometimes You Get What You Need . . .
Allison Stuart has always been the odd-woman-out of her family. She wears her jeans a little too tight, colors her hair a little too blonde, and instead of going into medicine and law like her sisters, she runs a diner. She's also the only single sibling left. And while she won't change her style, and her meatloaf is to die for, thank you very much, she wouldn't mind her share of wedded bliss. So she makes an early New Year's resolution: No more meaningless flings.
Drop-dead sexy Luke Hamilton is everything Allison has sworn off. His only serious relationship has been with his five-star restaurant, Le Cygne Noir, in Chicago. When he's threatened by a lawsuit, Luke decides to hide out in Pineville, Michigan, until the statute of limitations runs out. The small town is filled with Christmas charm, but he can't imagine living there. Heating things up with the hottie who owns the local diner would make his exile bearable—if he can convince her to give up her ridiculous resolution . . .
EXCERPT
"He's single, of legal age, and wearing black boots. You promised you'd flirt with the first man who fit that description."
She managed to twist so she landed on her hands and her hip, a sharp pain arcing down her side bringing a sting to her eyes and a filthy word to her lips. Her shopping bags landed upside down, scattering cellophane bags of pastel-colored Jordan almonds and boxes of white votive candles onto the cold concrete.
Perfect. Just flipping perfect. If that just wasn't the cherry on this craptastic morning, she didn't know what was.
Until a pair of worn black motorcycle boots stepped in front of her. Then she knew that as bad as turfing it on the sidewalk in the middle of downtown was, it didn't compare to being caught ass up by the next man she was supposed to flirt with.
He squatted, the faded denim at his knees pulling tight, exposing another inch of the pair of sexy boots. Two straps of butter-soft leather held a round silver buckle in place at the ankle. Small scuff marks were etched around the squared-off toes. She loved the squared-off toe on men's boots.
"Are you all right?" he asked, his voice a soothing rumble and genuine concern lacing his words. "Do you need me to call an ambulance?"
Allison sat back on her feet and sighed. She wanted nothing more than to retreat to her restaurant and grab a bag of ice for her hip and a shot of whiskey from the bottle she kept in her office. But a deal was a deal. Time to get her flirt on. "I'm fine. I just…" Her eyes caught up with her mouth, and she froze. He was beautiful, the hottest man she'd ever seen in person.
YOU CAN PURCHASE THE CHRISTMAS WEDDING SWAP AT:
Kensington Books
ABOUT THE AUTHOR: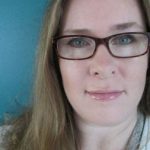 Allyson Charles lives in Northern California. She's the author of the "Pineville Romance" series, small-town, contemporary romances published by Lyrical Press. A former attorney, she happily ditched those suits and now works in her pajamas writing about men's briefs instead of legal briefs. When she's not writing, she's probably engaged in one of her favorite hobbies: napping, eating, or martial arts (That last one almost makes up for the first two, right?). One of Allyson's greatest disappointments is living in a state that doesn't have any Cracker Barrels in it.
AUTHOR SOCIAL MEDIA LINKS
Website: www.AllysonCharles.com
Twitter: www.twitter.com/1AllysonCharles
Facebook: www.facebook.com/AuthorAllysonCharles