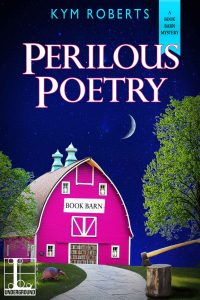 The Poetry Beat By Kym Roberts
Throughout history, when our world has been in upheaval, poetry has always embraced our cultural attitudes and passions. It's a part of an artist's spirit scrolled across the page in a lyrical fashion to share the emotions of the time. A social consciousness we sometimes lack in our every day lives.
I'm not a poet.
Words don't flow from my fingers onto my computer screen with a rhythm that will impassion people. Nor am I a deep thinker. I'm kind of a: what you see, is what you get person. But that doesn't mean I don't romanticize about the poetry readings of the past. The Beat poets, the Elizabethans, the Parisian expatriates, and the Greeks. The thought of young people gathered in their prime, wearing the styles of their era and sharing the depths of their feelings creates powerful imagery.
If I was present at those readings, however, I'd probably be the person with the blank expression on her face, while she scratched her head and said, "Huh?"
No, I will never be Maya Angelou who's poems like, Still I Rise, have touched millions since she wrote it in 1978. My writings won't become the motto of a people, or a university, nor will I be asked to recite them at a Presidential Inauguration. I will, however, cause an eye to roll, and a dimple to crease my husband's cheek after I tell him to push pause on the remote while I read him my latest scene.
For me, writing is about touching the few. I write to create moments of escape and laughter for the individual reader. Would I love to reach millions? Of course. I'd be lying if I said, "No, I don't want to make a living writing books." But there's a different focus between a poet and an author of fiction.
I mean seriously, I have, not one, but two characters in my Book Barn Mystery series with the name, Princess…and one of them is a pink armadillo. On top of that, the most profound phrase to come out of my heroine's mouth is, "Fuzz buckets."
Can you imagine a president asking me to stand up at the podium to read, "Fuzz buckets?" Wouldn't that be a proud moment in history?
But still, the romance of poetry has touched my life. My husband captured my heart when he let me read the verses he'd written that exposed his soul. Imagine, a tough, street-wise tactical officer who worked the narcotics division, sitting down to write compositions of balladry about the horrible crimes he'd witnessed and the violence he'd been a part of.
He had me at his first anthropomorphism.
Of course, knowing him now, that may have been his pick-up line;) But I won't ask, because I certainly don't want to cheapen the moment! Now that I think about it, however, it would make a humorous scene in one of my mysteries.
An inspiration is born.
In my October release, I actually decided to tackle a poem—no, it wasn't a Haiku. But I did cheat and add scene descriptors and a bit of side dialogue to hide my lack of flow and rhythm. When I was finally done, I needed an appropriate title for the piece. Not one for my murder mystery, I mean it works for that too, but I was looking for one for my death defying journey to write poetry.
It wasn't easy for me. It was full of pitfalls and boobytraps, snares and sharp objects, explosions and…okay, the explosions may have been words a bit harsher than, 'fuzz buckets' coming from my mouth. Like I said earlier, I. Am. Not. A. Poet. Which makes the title, Perilous Poetry, absolutely perfect for my latest prose.
Now it's your turn. Dig out your beret from the back of the closet, put on some classic music from the sixties, and start snapping your fingers and see, just how perilous poetry can be!
Kym
PERILOUS POETRY – A Book Barn Mystery #3 
Bookstore owner Charli Rae Warren and her pet-pink armadillo can't believe writer Lucy Barton has agreed to promote her latest Midnight Poet Society novel at The Book Barn Princess. The event will utilize The Book Seekers app, a smartphone app, which sends fans on a virtual scavenger hunt around town for a chance to meet the bestselling author. But as soon as it goes live, someone uses the app to track victims and copycat the fictional Midnight Poet Society homicides, and horrified locals suspect Jamal could be the mastermind behind the crimes. Now, it'll take true grit for Charli to shelve the culprit before her brainy cousin gets locked behind bars.
YOU CAN PURCHASE PERILOUS POETRY at:
Kensington Books
ABOUT THE AUTHOR: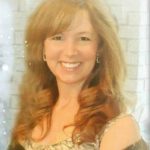 Kym Roberts is a retired detective sergeant who looks for passion, mystery and suspense in every book she reads and writes. She can be found on the web at kymroberts.com, on Facebook @KymRobertsAuthor911 and on Twitter @kymroberts911. Kym's 3rd Book Barn Mystery, Perilous Poetry, is available.
Author's Website: www.kymroberts.com
Author's Twitter: www.twitter.com/KymRoberts911