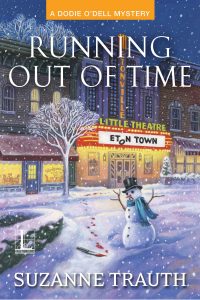 Running Out of Time by Suzanne Trauth
Dodie O'Dell, manager of the Windjammer restaurant in Etonville, New Jersey, and best friend Lola Tripper, artistic director of the Etonville Little Theatre, have often found themselves embroiled in mysteries and murders. While Dodie is up to her ears in menus and dinner specials, Lola is usually tackling the current production of the community group.
Dodie has been creating theme food specials for several years now to pump up business for the Windjammer and inject a little community spirit into the restaurant's menus by coordinating each play with various gastronomical delights. Such as Italian food for Romeo and Juliet, a seafood buffet for Dames at Sea, even a 1940s food festival complete with knishes, egg creams, and Nathan's hot dogs for Arsenic and Old Lace.
But when the theatre decided to produce its own version of Our Town – named Eton Town after the town's founder – Dodie was stumped. Until she hit on a crazy idea. Stock the refreshment stand with early American desserts from the 1770s like apple pie, pumpkin bread, hot cider punch, and mulled wine. And her personal favorite: Swamp Yankee applesauce cake. After all, former artistic director and current playwright Walter Zeitzman had made the American Revolution a centerpiece of his adaptation. And what would be more community-minded than to have the citizens of Etonville participate in the creation of the desserts? So several Sundays in a row, while the Windjammer was closed, Georgette, from Georgette's Bakery, had volunteered to take her "students" through their pastry paces before the opening of the next Etonville Little Theatre production. There were only a few accidents. For example, last Sunday…
Excerpt:
     "That's one teaspoon of salt?" asked one-half of the Banger sisters duo, two elderly siblings who kept their ancient digits on the pulse of the town. Gossip was their game.
     "No, it's a tablespoon," Georgette said patiently. "And remember we are multiplying everything by twelve. We want to end up with a dozen cakes." She jabbed at a copy of the recipe—her stubby, thick fingers were born to knead dough.
     The sisters bobbed their gray heads and began to measure.
     "Mildred, be sure the baking soda is dissolved in warm water before you add it to the batter," Georgette said to Etonville's choir director and turned to Dodie. "It might have been easier to buy the concession goodies," she muttered.
     "Maybe but I needed something that fit the American Revolution."
     Later, the smell of something burning leaked into the dining room. Dodie bolted, Lola close on her heels. She burst into the kitchen just as Georgette withdrew four cakes from the stove and slammed the door shut, stifling a cloud of smoke by locking it away in the oven. On the center island the remaining pans of Swamp Yankee Applesauce Cake batter were lined up like victims about to face a firing squad.
     Georgette cut open one of the four baked cakes: charred on the outside, gooey on the inside. A thin film of sweat covered her forehead. "Not to worry. Just a minor mishap." She paused and eyed her baking staff who were staring open-mouthed at the burnt cakes. "We need to remember to set the temperature at 350." Her bakers nodded.
Dodie was relieved to see the members of the baking class graduate and to tuck the concession stand goodies into freezers at the Windjammer, even though chef Henry complained about them taking up all of his inventory space. Secretly, he loved that the Windjammer was at the center of the town's theatrical capers, but he'd never let anyone, even Dodie, know it.
All would have gone well if, on opening night, a dead body had not been discovered onstage hours before the curtain was to rise on Eton Town. The rattled cast and crew were beside themselves. Would the show ever go on? Georgette and Lola distributed Swamp Yankee applesauce cake and pumpkin bread to the morose and frustrated actors. Under the circumstances, they deserved a little free food to keep their spirits up. Not to mention the mulled wine. It disappeared like hot cakes. Lola had explained the situation and that they were free to go, but they were an ensemble, after all, and hanging around the theater was something they just did.
Until Chief Bill Thompson declared the theater a crime scene making it off-limits. Yikes, Dodie thought. Another production and another murder…
YOU CAN PURCHASE RUNNING OUT OF TIME at:
Kensington Books
ABOUT THE AUTHOR: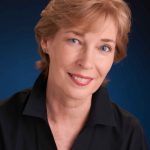 Suzanne Trauth is a novelist, playwright, screenwriter, and a former university theatre professor. She is a member of Mystery Writers of America, Sisters in Crime, and the Dramatists Guild. When she is not writing, Suzanne coaches actors and serves as a celebrant performing wedding ceremonies. She lives in Woodland Park, New Jersey.
Author`s Website: www.SuzanneTrauth.com
Author's Facebook: www.facebook.com/SuzanneTrauth
Author's Twitter: www.twitter.com/SuzanneMTrauth