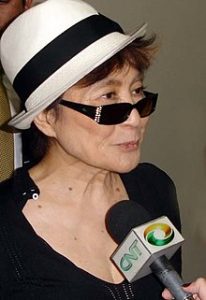 Yoko Ono, widow of John Lennon has written a book on the making of the Beatles hit song IMAGINE. Publisher Thames & Hudson has set a release date for the book in October of 2018.
In a statement Yoko said: : "A lot has been written about the creation of the song, the album and the film of 'Imagine', mainly by people who weren't there, so I'm very pleased and grateful that now, for the first time, so many of the participants have kindly given their time to 'gimme some truth' in their own words and pictures."
No title for the book has been released yet.