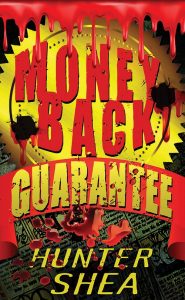 Welcome to Horrortober! By Hunter Shea
It's kind of funny how much more excited I get for Halloween now than I did when I was young.
Back then, it was fun to go to Woolworth and pick out my boxed costume (selections from my youth included drummer boy, little devil, Batman and hobo). Mom would tape a few witch cutouts on the wall and our plastic pumpkin would come out of storage. And that was it until the big night, trick or treating throughout the neighborhood for a few hours, handing my haul to my parents for inspection and munching on sweets until Thanksgiving.
Cut to today, and Halloween has morphed into an entire month dedicated to all things spooky. I even coined a hashtag for it 5 years ago: #Horrortober. As soon as the calendar flips to October, I go into full on Horrortober mode. What exactly does that mean? Well, let me count the ways…
 strive to watch at least one horror movie a day. Even if I'm dead tired, I put toothpicks in my eyelids and sit in front of the TV. I have a list of movies I curate every year, saving them for Horrortober. Once I've watched them, I tweet them along with my rating system, which is X out of 9 tana leaves, in a nod to the Mummy. My personal best is 50 movies. Not sure if I can beat that.
I also set aside certain horror books to read during Horrortober. Typically, I mix full novels with short stories, and shoot for 6 to 8 in the month. This year, I'm taking on two huge books – a re-read of Stephen King's The Stand (the extended version), and the coffee table book, Crab Monsters, Teenage Cavemen and Candy Stripe Nurses: Roger Corman: King of the B Movie. I try to honor Corman with everything I write, so it will be a pleasure to revel in his long and crazy film career.
Special horror-themed events are always in order. We'll find theaters playing old horror movies (like this year we have tickets for The Amityville Horror and House on Haunted Hill) and seek out haunted cemetery walking tours or haunted house attractions to visit.
The Chiller Theatre convention, which is always during the last weekend of October, is a must. It's become a huge reunion of friends and family. We spend the day walking the merchandise rooms, meeting celebrities and tipping back a few brews. The next generation is now part of the fun as all of our kids (teens now) are joining us this year.
The big night! In my neighborhood, we're lucky enough to be surrounded by like-minded adults who love Halloween. We get over 500 trick or treaters a year! The whole family comes together with treats, pumpkin ale, pizza and music and has the time of our lives. Even the adults dress up. Last year, I was Elvira's cousin, Elmyra. Oddly enough, Elmyra talked a lot like Wendy Williams. There are videos to prove it.
So, what are your Horrortober plans? If you need a good book, I hear Lyrical Press has some real treats in store for you. J
MONEY BACK GUARANTEE by HUNTER SHEA

YOUR MONEY BACK OR YOUR LIFE . . .
 
Protect America's shores with your very own nuclear submarine! Constructed from durable fiberboard material, this submersible is large enough for two kids! Sail off into imaginative international intrigue for just $5.00! If this toy doesn't float your boat, return it for a full refund!
With her son's heart set on piloting his own nuclear submarine, Rosemary Lanchester orders the craft advertised on the back of a comic book. What arrives is more sub-standard than submarine, but her son loves the cheap piece of cardboard. Until he and a friend nearly drown when they take the sub for a deep sea dive in the swimming pool.
Enraged, Rosemary reports the toy's manufacturer to the Better Business Bureau. The company's customer service center retaliates with threatening phone calls. Then her son and husband mysteriously disappear.
To save her family, Rosemary tracks down the company's headquarters with the help of her brother—a survivalist with enough toys of his own to wage an all-out war.
And she still wants her $5.00 refunded.
Buy links:
Kensington: http://www.kensingtonbooks.com/book.aspx/35508
 About The Author:
Hunter Shea is the product of a misspent childhood watching scary movies, reading forbidden books and wishing Bigfoot would walk past his house. He's the author of over 17 books, including The Jersey Devil (Pinnacle) and We Are Always Watching (Sinister Grin). Hunter's novels can even be found on display at the International Cryptozoology Museum. The Montauk Monster was named one of the best reads of the summer by Publishers Weekly. He was selected to be part of the launch of Samhain Publishing's new horror line in 2011 alongside legendary author Ramsey Campbell. When he's not writing thrillers and horror, he also spins tall tales for middle grade readers on Amazon's highly regarded Rapids reading app. His video podcast, Monster Men, is one of the most watched horror podcasts in the world. Living with his crazy and supportive family and two cats, he's happy to be close enough to New York City to see the skyline without having to pay New York rent. You can follow his travails at www.huntershea.com.
Author Links:
Website: www.huntershea.com
Twitter: @huntershea1
Facebook: facebook.com/huntershea1