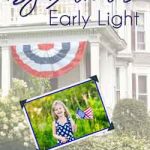 How a single story idea became a series by Kristine Raymond
Interestingly enough, the Celebration series began as a stand-alone book.  In early 2015, I joined with a group of author friends, and we decided to release a 4th of July themed anthology.  I wrote By Dawn's Early Light specifically for this set with no intention of writing a sequel, much less a series.
Well, that didn't go over so well with my readers; one in particular.  She commented; she emailed; she made it known that she wanted more of Celebration and its residents.  At the time, I was midway through writing the Hidden Springs series and my creative center was firmly entrenched in late 1800s Arizona Territory, not in modern-day, small-town America.  But, dang it, the idea had been planted, and despite fierce internal protestations on my part, two more stories took root, their characters whispering, sometimes not so subtlety, in my ear.
Vowing to wait until Hidden Springs was completed, I held off for two years, starting on Reservations for Two – a Valentine's themed story – in June of this year.  Releasing it in August, nowhere near the holiday it depicted, I took a short break to host an author event before jumping into Under the Mistletoe.  Lo and behold, the final installment of the Celebration series wrapped up in time for a November release, prime Christmas story time!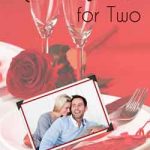 More importantly, I absolutely love all three stories!  When I look back, I can't imagine I seriously considered leaving By Dawn's Early Light as a standalone.  I guess it pays to listen to your readers and give them what they want, although now that the series is completed, and, yes, it ends with Frankie and Roxie's story, that same reader has been on me to create new stories around the secondary characters.  While I've assured her that's not going to happen (for real, this time), I dangled the possibility of a second-generation spin-off somewhere down the line.  That's the awesome thing about being an author.  I can create a new world anytime I want.
If you're looking for a light-hearted romance with just a hint of spice, please consider the Celebration series.  Each story provides a complete happily-ever-after – no cliffhangers – and they don't have to be read in order, though I always recommend starting at the beginning.
You can find links to all of my books on my website, and if you subscribe to my newsletter, you'll hear about new releases first.  Enjoy your visit to Celebration and Happy Reading.