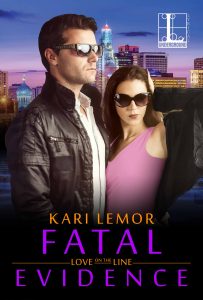 Kami Lemor and An Author's Desk
Book three in my Love on the Line romantic suspense series by Kensington Lyrical Underground deals with a blue-collar construction company owner and a real estate agent who have gone into business together to renovate an old mill building. What they don't know about the building… just might get them killed.
I'm not super handy with tools the way my hero, Scott Holland is but recently I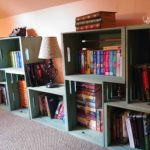 surprised myself at my own ingenuity. My children have all finally flown the coop and I found myself with an extra room (or two). So, choosing the nicest one I decided to set it up as an office. My husband put in a new carpet and my son helped paint it a nice soft peach (my favorite color). I needed some furniture and lots of book shelves.  After looking online for shelves that would be big enough to fit all my books, I finally decided I needed to make my own.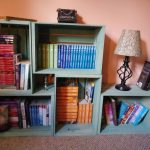 Pinterest has some cool ideas and I finally settled on using wooden crates. (Michael's was having a sale on them at the time which certainly helped the decision). So I went about choosing just the right color stain ( I still wanted to see the natural wood ) then had to decide how to arrange them best. The room has one wall that is slanted so they actually fit perfectly under the slant.
Then I needed a desk. The problem with regular desks is that typing on a laptop that is on a
desk is painful for your arms and shoulders after a while. But I couldn't find any desks that were lower. Staring at the wooden crates (before I stacked them together) I got an idea.  Sure enough, if I stacked two on top of each other and did that on either side of me, then put a board on top, voila, the perfect height desk for a laptop.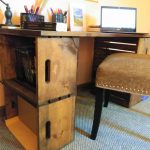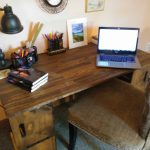 The desk I decided to keep a natural wood and my wonderful husband found a great desk top all sanded down and everything. The last little piece was finding just the right accessories to go with it.  A few lamps, some pencil holders and other writerly tools and my office is now all set to go. Hmm, now I guess there's no excuse for me not to be writing!
FATAL EVIDENCE………
What you don't know can get you killed . . .
Construction company owner Scott Holland doesn't go looking for trouble, but he's just stumbled on plenty. The rundown mill he's bought is plagued with mysterious incidents, and his investment partner, heiress Heather Silva, is as stubborn as she is intriguing. Dumped by his ex because of his blue-collar job, Scott is wary of Heather's privileged background. Yet he's drawn to her independence and strength, especially as the "accidents" grow more terrifying.
Determined to succeed without anyone's help—especially her wealthy parents—Heather clashes with Scott again and again. But a grisly discovery in the basement makes them both targets. Someone wants Heather and Scott silenced for good. And as a killer closes in, the only option is to trust each other—or become the next victims…
YOU CAN PURCHASE FATAL EVIDENCE at:
https://www.amazon.com/Fatal-Evidence-Love-Line-Lemor-ebook/dp/B06XJTM15L/
https://www.barnesandnoble.com/w/fatal-evidence-kari-lemor/1125923156?ean=9781516100743
https://itunes.apple.com/us/book/fatal-evidence/id1281322187?mt=11
https://play.google.com/store/books/details/Kari_Lemor_Fatal_Evidence?id=spFTDgAAQBAJ
https://www.kobo.com/us/en/ebook/fatal-evidence
About the author:
Kari Lemor was one of those children who read with a flashlight under the covers. Once she discovered her mom's stash of romance novels, there was no other genre to even consider. For years, she had stories stewing in her mind, stories of love and happily ever after. But writing wasn't something she ever liked in school. Of course, no one ever asked her to write a story about a couple falling in love. Now that her children are grown, she can concentrate on penning tales of dashing heroes who ride to the rescue and feisty heroines who have already saved themselves. Please visit her at karilemor.com and on Twitter and Facebook.
Author Links:
Website:  https://www.karilemor.com/
Twitter:  https://twitter.com/karilemor
Facebook:  https://www.facebook.com/Karilemorauthor/
Pinterest:  https://www.pinterest.com/karilemor/