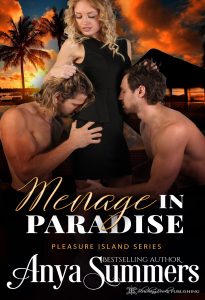 Ménage In Paradise by Anya Summers
Ian has wanted Olivia from the moment they first met. They shared a torrid one-night-stand in Scotland a year prior and never spoke of it again. Now they are business partners, and Ian has plans to woo Olivia back into his bed permanently.
Eric Thomas is a drummer from the superstar rock band, The Harbingers. When he meets Olivia, he knows there's something different about her. He wants her – and not just for the night.
But when the two Doms cause a stir with their antics on Pleasure Island as they each attempt to win Olivia, they will be forced to contemplate another means of attaining their prize. Can they convince Olivia to experience the fantasy of a ménage with them? And will what happens on Pleasure Island stay that way?
Publisher's Note: While this steamy ménage is part of the bestselling Pleasure Island series, it can be read and enjoyed on its own.
EXCERPT:
One mistake. One teensy error in judgement had changed everything.
The deed that she was trying fervently to forget never should have happened in the first place. But it had. Choices had consequences, even drunken choices. And since Olivia didn't own a time machine, nothing could change that fact. Once they'd tangled in the sheets together, their friendship evolved—and not for the better.
It didn't matter that it had been without a doubt the hottest night of her life, or that she'd not known how hot his fires burned. Their lovemaking had scorched the very fabric of her soul. Ian was normally so staid and stoic, which made the night all the more memorable and the walls erected between them since all the more daunting.
The man infuriated her. He'd hurt her—or her heart, anyway. That had been the most unexpected thing, considering Olivia didn't do feelings and tended to skedaddle once emotions came into play. In her life, love had been used as a weapon. The scars she bore on her soul attested to how insidious the barbs and arrows of emotions could be.
So Ian didn't want her help. Big surprise there. The difficult man snarled at her for even offering him aid.
Silly. Stupid even of her to try and offer assistance after the past year. Their relationship could be defined as stilted, forced, and foreign, even. Like they were two strangers attempting to divine the other's moods. Wary beasts wondering when the next loaded barb would pierce their heart.
Regret weighed her down as she ascended the stairs—holding on to the rail as the vessel dipped and swayed—into the blinding sunlight. Slipping her sunglasses into place, shielding her gaze, needing to hide the ache in her chest, she ignored the rest of the passengers as she traipsed across the boat deck. Olivia wasn't in the mood to be social. There would be enough of that forced on her over the next two weeks, where every moment she would have to pretend she wasn't hemorrhaging internally from wounds no one saw.
The next two weeks would make or break them.
You can purchase Ménage In Paradise at:
https://goo.gl/qce2BD
About the Author:
Born in St. Louis, Missouri, Anya grew up listening to Cardinals baseball and reading anything she could get her hands on. She remembers her mother saying if only she would read the right type of books instead binging her way through the romance aisles at the bookstore, she'd have been a doctor. While Anya never did get that doctorate, she graduated cum laude from the University of Missouri-St. Louis with an M.A. in History.
Anya is a bestselling and award-winning author published in multiple fiction genres. She also writes urban fantasy and paranormal romance under the name Maggie Mae Gallagher. A total geek at her core, when she is not writing, she adores attending the latest comic con or spending time with her family. She currently lives in the Midwest with her two furry felines.
Visit her website here:
www.anyasummers.com
Visit her on social media here:
http://www.facebook.com/AnyaSummersAuthor
Twitter: @AnyaBSummers
Goodreads: https://www.goodreads.com/author/show/15183606.Anya_Summers
Sign-up for Anya Summers Newsletter
Amazon Author Page https://www.amazon.com/Anya-Summers/e/B01EGTVRKC/
Bookbub https://www.bookbub.com/authors/anya-summers
Don't miss these exciting titles by Anya Summers and Blushing Books!
Dungeon Fantasy Club Series
Pleasure Island Series
Her Master & Commander, Book 1
Her Music Masters, Book 2
Their Shy Submissive, Book 3
Her Lawful Master, Book 4
Her Rockstar Dom, Book 5
Duets & Dominance, Book 6
Her Undercover Dom, Book 7
Ménage In Paradise, Book 8
Her Rodeo Masters, Book 9