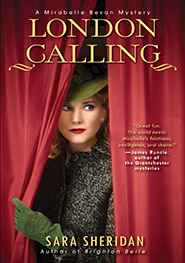 LONDON CALLING by Sara Sheridan
A Mirabelle Bevan Mystery #2
In the years following World War II, former Secret Service employee Mirabelle Bevan can't seem to resist an attraction to danger and a thirst for justice. The mysterious disappearance of eighteen-year-old debutante Rose Bellamy Gore, last seen outside a Soho jazz club in the company of a saxophone player named Lindon Claremont, has the London tabloids in a frenzy. When Lindon turns up in Brighton desperately seeking help, Mirabelle counsels him to cooperate with the authorities. But after the local police take the musician into custody and ship him off to Scotland Yard, Mirabelle and her best friend, Vesta Churchill, decide to take matters into their own hands. What they find is a sinister underworld where the price of admission can be one's life.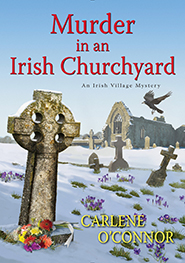 MURDER IN AN IRISH CHURCHYARD by Carlene O'Connor
An Irish Village Mystery #3
It's official! Siobhán of Kilbane in County Cork, Ireland is now Garda O'Sullivan, and her five siblings couldn't be prouder. While brother James runs Naomi's Bistro, Siobhán is doing her part to keep the village safe. When the local priest summons Siobhán to the church cemetery upon discovering a dead man in the graveyard—aboveground – the past returns when Macdara Flannery returns as a detective sergeant to cover the case. They learn the victim was from Dublin—Dublin, Ohio, that is. And when his family members are located and told of his murder, the plot thickens. Siobhán begins to dig for a motive among the gnarled roots of the family tree.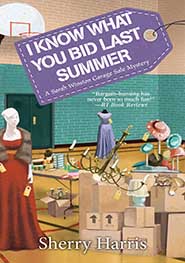 I KNOW WHAT YOU BID LAST SUMMER by Sherry Harris
A Sarah Winston Garage Sale Mystery #5
One morning in mid-summer Sarah is happily setting up a customer's yard sale. People are already lining up waiting impatiently for Sarah to remove the ribbon blocking the entrance to the drive. Just as Sarah removes the ribbon and the crowd surges towards the items for sale, five police cars screech to a halt and the crowd is ordered to leave. Sarah finds out everything she's selling is stolen, the house which she's never been in is unoccupied (she's only been in the garage), and the person who hired her has disappeared. Sarah has to get to the bottom of a twisted group of lies to save herself and her business.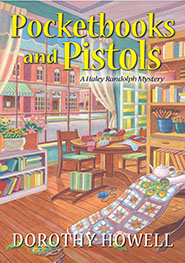 POCKETBOOKS AND PISTOLS by Dorothy Howell
A Haley Randolph Mystery #9 On-sale February 27th | Cozy Mystery | Kensington Books | Mass Market | ISBN:
After Haley Randolph discovers fellow sales clerk Asha McLean shot to death behind the Dumpster at Holt's Department Store, she learns that the bad publicity might force Holt's to close taking the smaller shops in the center down with it. Haley's only hope of keeping her job—and her fabulous employee discount at the trendy Nuovo boutique—is to find the murderer before a team of investigative reporters arrives.