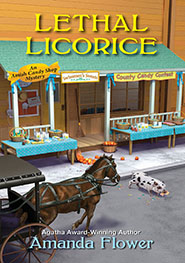 LETHAL LICORICE by Amanda Flower
An Amish Candy Shop Mystery #2
Harvest, OH is a long way from New York City, where Bailey King left a coveted job as a head chocolatier to take over Swissmen Sweets, her Amish grandparents' candy shop. Now, while caring for her recently widowed grandmother, she plans to honor her grandfather's memory by entering the annual Amish Confectionery Competition. But between lavender blueberry fudge and chocolate cherry ganache truffles, Bailey may have bitten off more than she can chew when the search for a missing pot-bellied pig turns up a body suffering from sugar overload—the fatal kind . . . Recipe Included!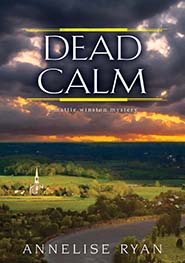 DEAD CALM by Annelise Ryan
A Mattie Winston Mystery #9 On-sale February 27th
The primary case will be an apparent homicide-suicide of a couple found in a motel room. Both of the victims were married to someone else and there is evidence to suggest the two were having an affair and the woman tried to break it off, leading to the tragic end. Through a combination of keen observation and her ability to read people, Mattie will determine that the whole thing was staged, that the affair never actually happened, and both of the victims were murdered. Determining who schemed up this clever ruse will challenge Mattie, Hurley, and Izzy as they try to put together a collection of seemingly unrelated clues.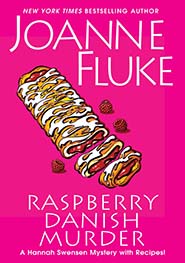 RASPBERRY DANISH MURDER by Joanne Fluke
A Hannah Swensen Mystery #22 On-sale February 27th
Julia Gooden juggles different lives. A successful crime reporter, she covers Detroit's grittiest stories while raising her two young boys in the suburbs. But beneath that accomplished façade is another Julia, still consumed by a tragedy that unfolded thirty years ago when her nine-year-old brother disappeared without a trace.
New Series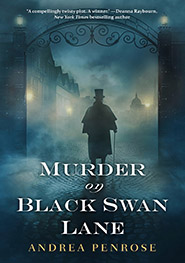 MURDER ON BLACK SWAN LANE by Andrea Penrose
A Wrexford & Sloane Mystery On-sale February 27th
The Earl of Wrexford possesses a brilliant scientific mind, but boredom and pride lead him to reckless behavior. So when pompous, pious Reverend Josiah Holworthy publicly condemns him for debauchery, Wrexford unsheathes his rapier-sharp wit and strikes back. But then the clergyman is found slain in a church—his face burned by chemicals, his throat slashed ear to ear—and Wrexford finds himself the chief suspect. An artist in her own right, Charlotte Sloane has secretly slipped into the persona of her late husband, using his nom de plume A.J. Quill. When Wrexford discovers her true identity, she fears it will be her undoing. But Lord Wrexford and Mrs. Sloane join forces to trap a cunning adversary—before they fall victim to the next experiment in villainy.