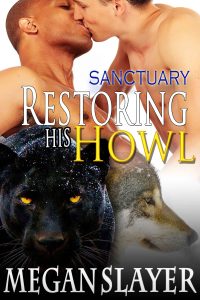 Restoring His Howl (Sanctuary Book 10) by Megan Slayer
Contemporary Paranormal Erotic Gay Romance
Opposites can attract, but can they make the love last?
Dillon came to the Sanctuary to hide, but also to heal. He'd been abused and needed a safe place to come into his own. He never expected to find a partner, but love came looking for him. Can he accept what he deserves or will he push away a chance at forever because he feels unlovable?
Cinders knows from the moment he sees Dillon that he wants the wolf shifter for his own. But can a jaguar shifter and a wolf shifter really pair up? He doesn't know, but he's banking on the attraction to pay off. What he doesn't expect is how deep Dillon's scars run. Is he strong enough to see beyond what's happened to Dillon and help create a future for them together?
Anything's possible when the jaguar shifter, a former stripper, and the wolf shifter figure out how to restore his howl.
Available on Kindle: https://www.amazon.com/dp/B0792QJ15T/
https://books2read.com/u/bwWOw9
https://www.barnesandnoble.com/w/restoring-his-howl-megan-slayer/1127842827?ean=2940158781841
https://www.kobo.com/us/en/ebook/restoring-his-howl
ABOUT THE AUTHOR:
I've always dreamt of writing the stories in my head. Tall, dark, and handsome heroes are my favorites, as long as he has an independent woman keeping him in line. I love playing with words and letting the characters run wild.
NASCAR, Ohio farmland, dirt racing, animals and second chance romance all feature prominently in my books. I also write under the pen name of Megan Slayer. I'm published with Total-E-Bound, Changeling Press, Liquid Silver Books, Turquoise Morning Press, Decadent Publishing and The Wild Rose Press. Come join me for this fantastic journey!
Learn more about Megan and her books at: http://wendizwaduk.com/indexMegan.htm