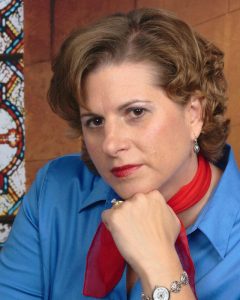 Welcome Ellen! Tell us a bit about yourself. Where you're from, where you live? Do you have one of those day-jobs? 
Hello Reader's Entertainment! Thanks for having me. I live in the suburbs of DC, where national news is local news, and everything revolves around politics. That's the bad, the good is all of the wonderful opportunities and free museums living in D.C. affords.
How long have you been writing?  
My first novella was published in 2013 and my first full length novel in 2014. I started writing the novel in 2012.
Briefly describe your writing day. 
Step One: Get up and get the children off to school.
Step two: Go to the gym and force myself to do a work out.
Step three: Shower, get dressed.
Step four: Housekeeping. Check emails, post stuff on social media, do some design work for promos.
Step five: Write current MS or edit previous one.
Step six: Pick up children, help with homework, activities, therapy sessions, etc.
Step seven: Dinner, nag children to finish their homework, bathe and get to bed.
Step eight: Stare at MS. If inspired write more. If not, zone out in front of TV and hope inspiration arrives the next day.
Tell us about your latest release?
In March 1990 two men, masquerading as police, entered the Isabella Stewart Gardner Museum in the wee hours of the morning. At gunpoint, the fake officers marched the museum's two guards to the basement and tied them up. For the next eighty-one minutes they proceeded to steal 11 paintings, and 2 artifacts valued at over $500 million. All of the artwork is still missing … until now.
Are your characters entirely fictitious or have you borrowed from real world people you know?
Often times, my characters have elements of real world people in my sphere. For instance, an FBI friend inspired the character of Michael Finnegan for Isabella's Painting. However, though the heist actually happened, and the artwork is still at large, Karina's story is all fiction.
Would you share one detail from your current release with readers that they might not find in the book?  
The thieves who robbed the Gardner Museum took the security tapes with them. However, motion sensor printouts give the FBI and police a sense of where the robbers were in the museum during the theft. One of the paintings stolen during the Gardner heist Manet's, Chez Tortoni, was in the Blue Room. The sensors never picked up sound or motion in that room. The only footsteps were from those of the guard, Richard Abath forty minutes prior to the break-in. Abath was also the security guard to buzz in the fake police. Needless to say, Abath was put under great scrutiny during the investigation. However, agents have never been able to connect him to the thieves or the stolen artworks.
Who has been the most difficult character for you to write? (Any of your books)
The most difficult character for me to write was Lily St. James in my historical fiction, The Brass Compass.  Because she's a spy, I had to give her an intricate background. I basically wrote a novella, just on Lily's early years. Some is included in the novel, some is not.
If you could be one of your characters for a day which character would it be? Why?
Poppy Reagan from Planning for Love is my favorite character. She is fearless, smart, no nonsense, and has fabulous red hair. She's a successful party planner with a wicked sense of humor. Who wouldn't want to be Poppy?
What's next?
I'm already working on the next Karina Cardinal novel, Fatal Legislation. A Senator dies in Karina's arms, and even though it looks like a tragic heart attack … looks can be deceiving.
All writers are readers. Are there any particular authors that have influenced how you write and, if so, how have they influenced you?
Janet Evanovich for her humorous Stephanie Plum novels. Elizabeth Peters for the mystery and exciting adventures her ladies have. And too many others to count.
If you could have dinner with any writer living or dead, who would it be and why?
Barbara Merz a.k.a. Elizabeth Peters/Barbara Michaels. I just love her Vicky Bliss series and Amelia Peacock series in Egypt. Egypt is on my bucket list in part because of Barbara's novels. She brought the beauty of Egypt's ancient lands to life in her books in a way that makes me want to follow in her heroine's footsteps.
Do you have a secret talent readers would be surprised by?
I can tap dance.
Your favorite go to drink or food when the world goes crazy!
Pizza and a bottle of Chianti!
Ellen's Latest Release is Isabella's Painting…………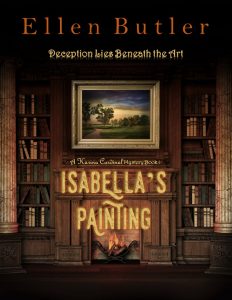 Peeling back layers of lies could save a masterpiece…or reveal a killer.
After a long week lobbying on Capitol Hill, all Karina Cardinal wants to do is chill with Netflix and her boyfriend, Patrick Dunne. Instead, she's slipping her aching feet into red stilettos for his parents' annual holiday bash.
When she accidentally interrupts Patrick's father in his study, her embarrassment is tempered by suspicion that Martin Dunne and his dapper, secretive guest are hiding something. Maybe the painting she barely glimpses right before it disappears behind a secret panel.
An internet search raises her curiosity to full-blown alarm. If she's right, Martin is in possession of a stolen masterpiece. Infamous because everyone close to it has turned up dead. As in Mafia-style-execution dead.
As she's chewing over which instinct to follow—back off while she still can, or dig deeper for the truth—she crosses paths with FBI agent Mike Finnegan. An old friend and not-quite flame from her college days. When she looks into his warm, mocha eyes, she's tempted to tell him everything.
 Trouble is, she's already being watched. And the next move she makes could destroy innocent lives…including her own.
You can find Ellen and learn more about her books at:
You can find Ellen at:
Website ~ www.EllenButler.net
Facebook ~ www.facebook.com/EllenButlerBooks
Twitter ~ @EButlerBooks
Instagramn~@ebutlerbooks
Goodreads ~ www.goodreads.com/EllenButlerBooks