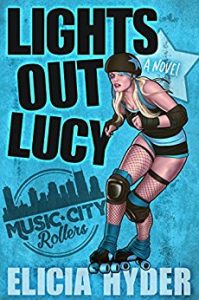 Lucy Cooper isn't looking for love when she finds it–or slams into it, rather–during rush hour traffic. But her heart, like her car, is a total loss the moment West Adler steps out of his truck to inspect the damage.
West truly is the perfect guy: handsome, funny, rich. The benefactor of not one, but two children's hospitals. And he's the main sponsor of the Music City Rollers, Nashville's championship roller derby team.
When Lucy discovers the Rollers are actively recruiting "Fresh Meat," she puts her life on the line to catch West Adler's attention. But will accident-prone Lucy skate off with the heart of Nashville's Most Eligible Bachelor? Or will she get herself killed in a sport that promises, "It's not a matter of if you'll get hurt–but of how bad and when."
LIGHTS OUT LUCY: ROLLER DERBY 101
In the middle of the jam, my phone buzzed in my pocket. I finished the last bite of my hot dog and pulled it out. It was a text message.
Fancy meeting you here, Lucille.
My eyes searched the arena like it was the world's largest game of Where's Waldo—if Waldo was a life-sized, wealthy Ken doll hidden on the set of Beetlejuice.
I texted him back—and lied, lied, lied. What are you talking about? You'll never believe where I am right now.
Because this was the way the dating game was played, right?
Just then, commotion on the track caught everyone's attention. The Vixen's jammer, number 6VI6, spun and clotheslined Medusa. There was a series of sharp whistle blasts from the referees accompanied by condemning boos from the crowd.
The pack parted, and Medusa lay at their skates visibly heaving in pain. Medical personnel standing just off the track jogged over, but before they reached her, she pushed herself up.
Everyone cheered.
Then Medusa sprinted on her skates across the track toward the offending Vixen. It took four other skaters to hold her back.
Even in my seat, all the way across the room, I drew back in alarm.
So did Olivia.
And everyone else in the arena.
But the tension quickly settled when the crowd began to clap again. Medusa skated around the oval, stretching her arms and her neck, and successfully ignored 6VI6 as she skated to the penalty box.
"That was insane!" Olivia said in awe. "Look at her shake it off like nothing happened. I'd kill a bitch for less."
I laughed. "I'm sure you would."
There was less violence for the rest of the first half. The bout was so intense, I almost forgot the whole reason we were there. But five minutes into the second half, I saw an arm waving in the stands across the arena.
An arm that belonged to West Adler.
I looked at Olivia. "It's him."
Her mouth gaped. "Huh?"
"West Adler," I said, pointing.
She followed my finger and strained her eyes. "The guy waving, I assume?"
"Yes."
"Are you going to go talk to him?"
I pressed my lips together and shook my head.
"No?"
"No. He can come here. I'm a lady."
She laughed and almost spit out her beer. "We're only here because you're an online creeper. You lost your lady card yesterday."
When I looked again, West was gone. My eyes scanned the crowd till I saw him walking down the stairs to the floor of the arena. He slapped hands with a few people as he walked the perimeter of the room.
I dug my nails into Olivia's arm. "Oh gosh, I think he's on his way over here."
"You need Xanax," she said, draining the last of her beer.
"What do I do?" My voice jumped up an octave.
She laughed. "I would say 'be cool' but that ain't happening."
West walked up to the team bench in front of our bleachers and shook hands with a few of the players. He paused to say something to the coach before patting the woman on the back and turning toward the bleacher steps. Our steps.
I worried I might lose my hot dog.
You can purchase LIGHTS OUT LUCY at:
Amazon
Readers, learn more about Elicia and all her books by visiting her website.