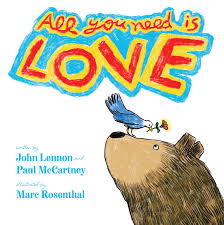 Little Simon the children's imprint of Simon & Schuster has announced they will be releasing two books based on Beatle's hit songs. All You Need is Love and With a Little Help From My Friends, both songs written by John Lennon and Paul McCartney will become picture books.
Valerie Garfield, v-p and publisher of Little Simon said: When I was first approached with this opportunity, I couldn't believe it had never been done before. We wanted to interpret the lyrics in a way that would show children that there is love in the world. This is a message that has special meaning now and that parents want their children to hear."
The books will be illustrated by Marc Rosenthal. All You Need is Love will be the first title released in January 2019. The title will be available on Amazon. 
From Simon & Schuster's Press Release"
Little Simon, an imprint of Simon & Schuster Children's Publishing, announced today a licensing agreement with Sony/ATV Music Publishing and Sony/ATV's Global Licensing Agent, Epic Rights. Simon & Schuster will incorporate two of the most iconic songs by John Lennon and Paul McCartney into picture books.  On sale in January 2019, the first lyrical picture book, All You Need is Love, with art by New York Times bestselling illustrator Marc Rosenthal, brings the universally loved song to life, showing children that there is indeed love all around them.  A second picture book will be published in a future season.
"This timeless song rings true now more than ever," says Valerie Garfield, Vice President and Publisher of Little Simon about All You Need is Love. "We feel there is always a market for books about hope, and John Lennon and Paul McCartney have written songs that resonate with parents and children who want to look at the world with hope and love."
Rod Kotler, VP, Merchandise & Consumer Products, Sony/ATV stated, "We are honored to be partnering with a publisher of such caliber as Simon & Schuster to create this brand extension. We trust they will honor the legacy of Lennon and McCartney's songs, which have been loved by so many for decades."
"We are thrilled to be working with Simon & Schuster to introduce these iconic song lyrics to a new audience," added Meghan Mernin, Director of Licensing, Epic Rights. "Through storytelling, we hope these influential words will bring joy to our youth and their families the world over."