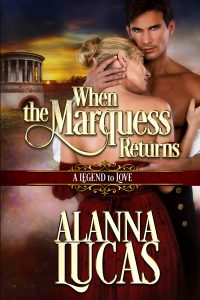 When the Marquess Returns by Alanna Lucas
A Marquess in Waiting and the Cursed Heiress…
The ton is abuzz and mamas are lining up their daughters; identical twins Maximus and Lucius St. Albans are making their entry into society. But they're not just eligible―they're the missing grandsons of the Duke of Warrington, stolen as infants.
However, Maximus doesn't relish the battle with his cocky, reprobate brother to be the next Marquess.  And he has no time for the simpering misses now vying for his attention. Only Miss Sabina Teverton has his interest.
She was resigned to life as a spinster but from the moment Sabina meets Lord Maximus, her heart is torn. She dreams of a match with him―but how can that be when she's been branded as cursed…and she knows secrets of that night long ago when Maximus and his twin were snatched from their cradles?
Excerpt:
"Look what you've done." Hatred blazed in her eyes. "What have I done to deserve a daughter like you? I've been cursed since the day you were born."
The words seared straight through Sabina's heart, striking at her very core. Tears burned the corners of her eyes as she fought to control her breathing. One would think she would be used to the barbs after enduring so many years of them, but they still hurt. Since her father's passing, all she had ever wanted was her mother's love.
Desperate to escape, even if only for a moment to regain her composure, Sabina swallowed the hard lump in her throat, raised her chin, pulled back the curtain, rushed from their box none-too-gracefully, and straight into a wall. Only this wall was warm and smelled like a pleasant autumn afternoon in the country.
Firm arms wrapped about her waist, keeping her from falling. She glanced up into the most handsome face she'd ever seen.
"Oh…I…I'm…" She sounded like such a ninny instead of a woman of thirty.
She lost herself in the sea of his clear blue eyes. The theatre, her mother's cruel words, the constant stares, all faded away and settled into this one perfect moment. His warm hands penetrated through her satin dress, searing her skin and sent her heart thundering.
She tried to think of something intelligent—or at least somewhat witty—to say but she was not used to conversing with handsome men who disrupted her senses. "I…I apologize for ruining—"
"You didn't ruin anything," the handsome stranger's deep masculine voice quickly set her at ease. His fervent gaze stirred a long-forgotten flutter in her stomach.
She did not want the moment to end but did not want him to be caught with her either. She fought to control her swirling emotions. "I best be returning to my party."
"I suppose I should release you." It almost sounded like he didn't want to.
Her heart soared for a brief moment before reality pierced it with an arrow, sending it crashing to the ground. Although there was something familiar about him that she couldn't quite place, it was clear this gentleman was new to London, otherwise he would have already set her to her feet, bid adieu, and run the other way. The gossipmongers could be altogether too cruel to those who came near the Cursed Heiress.
You can purchase When the Marquess Returns at:
https://www.amazon.com/When-Marquess-Returns-Legend-Love-ebook/dp/B07G2TH8CR
https://www.barnesandnoble.com/w/when-the-marquess-returns-alanna-lucas/1129319943
https://www.kobo.com/us/en/ebook/when-the-marquess-returns
https://itunes.apple.com/us/book/id1427801768
ABOUT THE AUTHOR: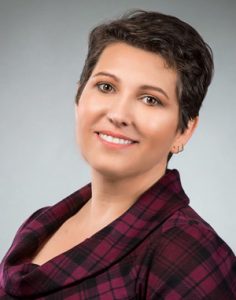 Alanna Lucas grew up in Southern California, but always dreamed of distant lands and bygone eras. From an early age she took interest in art, history, and travel, and enjoys incorporating those diversions into her writing. Alanna makes her home in California where she spends her time writing historical romances, dreaming of her next travel destination, and spending time with family.
To learn more about Alanna and her books, follow these social media links:
www.alannalucas.com
https://www.facebook.com/AuthorAlannaLucas/
https://twitter.com/alannalucas27
Author Page on Amazon:
http://www.amazon.com/Alanna-Lucas/e/B00HPC0MYU
https://www.bookbub.com/authors/alanna-lucas