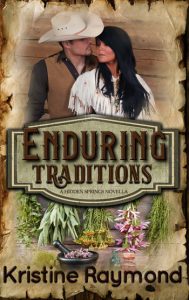 ENDURING TRADITIONS by Kristine Raymond
The final book in the Hidden Springs series
It's the turn of the century and progress has made its way to Hidden Springs.
Leaving his hometown two decades earlier to become a physician, Micah Tanner has returned, eager to educate folks in the ways of modern medicine. However, what sounds like an easy task is anything but when he discovers his neighbors prefer seeking help from the local medicine woman instead of sending for the doctor when they're ill. Determined to put an end to her ancient customs, he's unprepared for the effect she has on his heart.
Tel-e-ka, or Ellie as she's known to the townsfolk, is a young Yavapai medicine woman struggling to find a balance between the old ways of her ancestors and the new advances in the field of healing. It doesn't help that the new doctor thinks herbal remedies are a thing of the past and has no problem telling her so, or that she finds herself attracted to him. A medical emergency outside the scope of her experience changes how she views her own beliefs – and his.
When age-old traditions meet modern-day practices, the sparks that fly rival those of the town's New Year's celebration. Can a couple from two different backgrounds share a love as enduring as their traditions?
EXCERPT:
A sharp rap sounded at the door, and Ellie flung it open to discover that night had fallen without her realization, pinpricks of light twinkling brightly against the velvet sky.  But what drew her attention was the solidly-built stranger who stood on her doorstep wearing the inky blackness like a cloak.  "May I help you?"
Whomever Micah expected to answer the door, it certainly wasn't this raven-haired beauty.  He blinked once, his reason for showing up at the little house forgotten as he stared at the woman backlit against the flames that flickered in the stone fireplace.  Though her features were hidden in shadow, there was an aura about her that roused every molecule in his body, and he had the strangest urge to take her in his arms and kiss her.
Shaking his head to clear away the lustful thoughts, he looked past her into the house, the bundles of dried herbs hanging from the ceiling reminding him why he'd come.  "I'd like to see the medicine woman.  Is she here?"
"She is."  A smile playing around her mouth, Ellie nodded and stood to one side.  It never failed to amuse her when someone new showed up expecting to find a grizzled old woman who chanted and invoked the spirits instead of someone who looked as she did.  Not that she didn't chant or ask the spirits for help on occasion but never in front of a paying customer.  "Won't you come in out of the cold?"
Micah stepped inside and stopped in the middle of the room, the warmth from the fire chasing away the chill.  The woman stepped into view, and his first thought was 'I'm looking at my future wife' followed by a more distressing one – 'she's Indian'.  While it wasn't unheard of for whites to marry natives, such unions rarely occurred with both parties' consent, and though the country's views were slowly changing, they hadn't progressed to the point where the people of Hidden Springs would accept their doctor marrying a medicine woman's daughter.   Besides, such a beautiful woman must already be spoken for.
To distract himself from such notions, he roamed around the cozy space, admiring the colorful woven blankets that hung like tapestries from the walls.  An earthy, spicy scent permeated the air, which he imagined emanated from the various jars of roots and herbs which occupied every available nook and cranny.  Removing the lid from one, he took a tentative sniff, wrinkling his nose at the acrid smell before setting it back on the shelf.
Completing the circuit, he looked around for the woman he sought, his eyes coming to rest on the beauty who'd opened the door when his search came up empty.  "I don't mean to be rude, but I'm in a hurry.  You said the medicine woman is in?  Where is she?"
Her obsidian eyes glittering with curiosity, Ellie had been tracking the man's progress around the room as he inspected her remedies.  By far the most attractive individual she'd ever laid eyes on, he stood taller than she by a few inches, with dark hair and eyes, and short whiskers that shadowed his chin and upper lip.  His presence awakened a desire she'd not felt before which she found both exhilarating and unnerving, and ordinarily unflappable, her pulse began racing when his eyes settled on her expectantly.  Aware he was waiting for an answer to his question, she replied, "Right in front of you."
Micah's eyebrows snapped together as he looked once more around the room, then back at the woman who was clearly enjoying herself.  "You're the medicine woman?"
Struggling to keep a straight face, Ellie nodded.  "I am.  Now, you said you're in a hurry.  What can I do for you?  You look kind of pale; maybe a tonic to freshen your blood?"
He was dumbfounded.  No wonder Ben hadn't shared the details of his dealings with her; the Kincaids were probably sharing a good laugh at his expense right about now.  Annoyed at being duped, Micah found his voice and said sharply, "I don't need a tonic.  I came here to tell you to stop interfering with my patients!"
About the Author: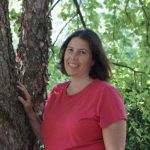 Kristine Raymond didn't figure out what she wanted to be when she grew up until later in life.  You guessed it!  It's being an author.  Since writing and publishing her first book in 2013, she's gone on to complete two romance series – one historical western and one contemporary; a humerous non-fiction story; a collection of seasonally-themed short stories; and a contemporary erotic drama.
When not writing, she's navigating the publishing and promotional side of the business.  When not doing that, she enjoys spending time with her husband and furry family, reading, gardening, and binge-watching shows on Netflix.
Follow her on Facebook, Instagram, Book + Main, and BookBub.  You can also visit her website at www.kristineraymond.com to keep up with her latest news. or write to her at:
Kristine Raymond
PO Box 28
Brownsville, KY  42210
You can also sign up for her newsletter here.
Buy links
New release
Enduring Traditions – https://www.books2read.com/enduringtraditions
Other Books
Hidden Springs series
Celebration series