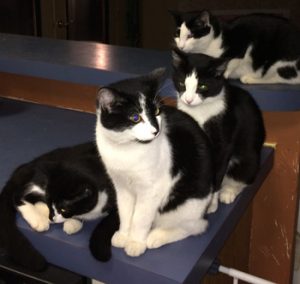 I love my cats.
You might be scratching your head as to what my affection for my four-legged furbabies has to do with holiday decorations, but my fuzzy aliens – as the hubs has affectionately dubbed our seven, rescued, feline siblings – are the sole reason why the halls of my office are festively bedecked while the rest of my house remains unadorned.  Garland draped over the mantle, stockings hanging in front of the fireplace, ornaments dangling from the tree, the tree itself – all are but a fantasy in the Raymond household, which is why I emphasize the importance of my opening statement.
I love my cats.
When I was a child, December 1st heralded the magical transformation of our home into a winter wonderland.  The night before, Dad would lug boxes down from the attic for Mom to sort through, and once we kids were sent off to school the next morning, the decorating commenced.  Nothing was more eagerly anticipated than returning home that afternoon to find greenery wrapped around the bannister, familiar ceramic figurines – hand-painted to represent me and my siblings – charmingly displayed atop the desk in the hall, a cotton snowman residing where the potted plant used to, and Christmas carols playing on the stereo.  Everywhere one looked, lights twinkled, and cherished memories abounded; not a single room in the house left untouched by the holiday spirit.
It's a tradition I dreamt of continuing into adulthood, and early on began amassing my own collection of decorations.  Boxes and boxes, from floor to ceiling, now fill one closet in my home, and each December 1st I pull them out and riffle through them, choosing treasured items to display in my office.  Why not the rest of the house, you ask?  That's simple.  It's because my office is the only room in my home that's a cat-free zone – though given the opportunity, my furry bundles of claws…er, I mean…paws would, no doubt, gleefully stage a coup and infiltrate my refuge, shedding cat hair with abandon across every surface while investigating this new-to-them habitat, probably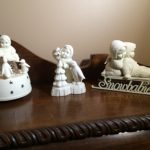 breaking a few things in the process.
When the hubs and I began rescuing animals close to thirty years ago, I was faced with a choice – one I've never regretted.  Sacrifice living-room furniture and holiday decorations and a good night's sleep in exchange for puppy kisses and deep-throated purrs and the knowledge that these critters who've found their way into our lives are safe and warm and loved.  I got the better end of the deal, I think.
So, the halls I deck each year are smaller than I'd like, but the pitter-patter of multiple kitty feet from the next room more than make up for it.  And seeing as I practically live in my office anyway, I get to bask in my memories all day long.  I don't follow a particular theme when I decorate, though I am a fan of snowflakes, bells, and rustic décor with lots of greenery, wood, and buffalo plaid.  I've amassed quite the assemblage of Byers' Choice Caroling dogs over time though it's been a few years since I've added to my collection, and there was a time I was head-over-heels for Snowbabies – the sight of the blue-eyed figurines still bringing a smile to my face.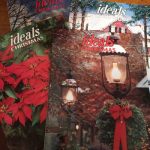 Back issues of Ideals Christmas magazine flood me with memories of holidays past, and books such as A Little House Christmas, How the Grinch Stole Christmas, and Christmas: An Annual Treasury are pulled from my bookshelf and dusted off, those childhood tales as meaningful today as they were when I was ten.  And though I may not makeover my home into the winter wonderland of my youth, the joy of the season lives on in my heart.
And, I really do love my cats.
Wishing a very Happy Holiday to you and yours.
Here's a peek at Kristine's latest release UNDER THE MISTLETOE: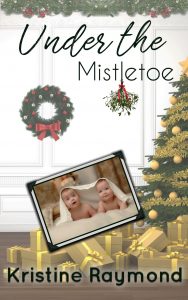 Frankie Denton liked his life exactly the way it was.  As the owner of a successful auto repair shop, the idea of adding a wife and kids to the mix never crossed his mind – until the day the sassy redhead he'd met at a friend's wedding informs him she's pregnant, a result of their one-night stand.  Resolved to do the right thing, nonplussed when she declines his marriage proposal, he sets out to prove he's not only husband material, but father material as well.
After spending an exhilarating night in the arms of the sexy mechanic she met in Celebration, Roxie Malone discovers she's expecting.  Embracing the prospect of motherhood, determined to raise the baby on her own, she's shocked when Frankie steps up, demonstrating time and again that he's eager to be part of their lives.  But she has first-hand experience that fathers don't always keep the promises they make, and she's hesitant to put her trust in a man she hardly knows.
Frankie has a lot to contend with in order to win Roxie over; a jealous friend who wants to marry her himself, a complication with her pregnancy, and a misunderstanding that threatens to drive them apart permanently.  Faced with the possibility of losing the family he never knew he wanted, he scrambles to find a way to convince her they should be together.  With Christmas just around the corner, will he get the gift he wants most?
You can purchase UNDER THE MISTLETOE at:
Buy link – https://books2read.com/underthemistletoe

ABOUT THE AUTHOR: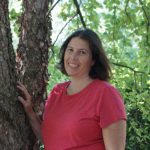 Kristine Raymond didn't figure out what she wanted to be when she grew up until later in life.  You guessed it!  It's being an author.  Since writing and publishing her first book in 2013, she's gone on to complete two romance series – one historical western and one contemporary; a humorous non-fiction story; a collection of seasonally-themed short stories; and a contemporary erotic drama.
When not writing, she's navigating the publishing and promotional side of the business.  When not doing that, she enjoys spending time with her husband and furry family, reading, gardening, and binge-watching shows on Netflix.
Follow her on Facebook, Instagram, Book + Main, and BookBub.  You can also visit her website at www.kristineraymond.com to keep up with her latest news. or write to her at:
Kristine Raymon
PO Box 28
Brownsville, KY  42210
You can also sign up for her newsletter here.
Find out more about Kristine and her books at:
Website – http://www.kristineraymond.com/
Newsletter signup – https://dl.bookfunnel.com/bxfhwpv1k9
Facebook – https://www.facebook.com/KristineRaymondAuthor/
Twitter – https://twitter.com/k_raymondauthor
Bookbub – https://www.bookbub.com/authors/kristine-raymond