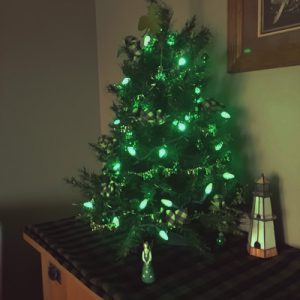 My McIrish Christmas Office Jocie McKade
I LOVE Christmas. It is my favorite holiday. I love everything about it — snow, trees, lights, food, decorations, and family. I live on a small 'farm', and I use that term lightly, and I love decorating it. I put lights on the barn, the house, in little used corners or the house. My electric bill soars during December! LOL
I don't always have my office decorated as grandly, but I do usually have a strand of lights around my desk, or holiday scented candles burning, or a few small ornaments decorating my desktop. For the last few years, since I've been involved in tracing my family's genealogy, I've  enjoyed creating an Irish Christmas tree. While I've always adored anything Celtic, Irish, or plaid, it wasn't until I discovered so many "Mc's" in my family tree, that I understood why.
So, for roughly ten years, I've had an Irish tree. It's gone from just having green lights to a very eclectic collection of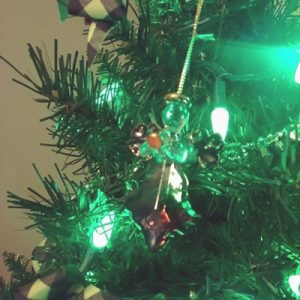 ornaments procured from everywhere. My bucket list is to visit Ireland and bring back a genuine Irish tree ornament. For now, I just enjoy my green lights, plaid tree skirt, lovely glass Irish Angels, and of course my top-topper clover for luck.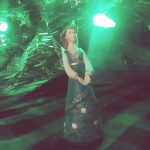 My Irish tree sits on top of my file cabinets, and it's warm green glow is such a welcoming beacon in my office. This year, I added a lovely Irish angel under the spread of the pine branches. I'm not sure she was intended to be Irish, just Christmas, but she's red-haired, dressed in Celtic green with gold wings and I figure if she could talk, there would be quite the 'lilt' to her voice.
Wishing y'all Merry Christmas (Nollaig Shona ) Jocie
Check out Jocie's Christmas book on sale now: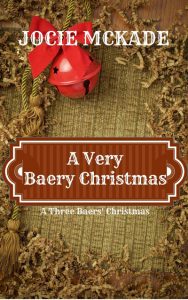 A VERY BAERY CHRISTMAS – Part of the Three Baers series
It was just supposed to be a simple little kidnapping.
It's almost Christmas and Abby Baer is determined to spend it with her new husband, when she is called by a friend to lend a hand in his escape from a retirement home. On what could be the most memorable road trip ever, she picks up a unique passenger, is tailed by the cops, is hunted by the deranged daughter of a Shoshone sage, befriends a skunk, and is thwarted by a raging blizzard.
Take a road trip home to Hidden Rock Ranch for the holidays. Spend an unforgettable Christmas with the Baer family and incredible people of Sentinel, Wyoming.
You can purchase A VERY BAERY CHRISTMAS at:
Amazon
About the Author: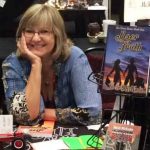 Jocie worked at a several jobs before landing her perfect one as a librarian. With a soft spot for U.S. Veterans, she chaired the Veteran's Oral History Project and her work with the program lead to her speaking before the Project committee and the U.S. Library of Congress. She has won several awards for her non-fiction writing on a multitude of subjects.
Her fiction writing has received the Author / Ambassador at Library Journal Self-e Authors,
​Winner Queen of the West Reader Favorite Award, Amazon Bestseller – Historical,
Double finalist in the Next Generation Indie Book Awards in the Mystery and Humorous Categories, and her novel Baer Truth received 4.5 stars from RT Book Reviews.
Writing mostly romantic comedy and humorous cozy fiction, Jocie finds humor in most everything. She lives in the Midwest on Dust Bunny Farm with her family and Diesel the Wonder Dog. When not writing, she grows ArnoldSwartzaWeeds in her garden and camps whenever the opportunity presents itself.
For more information on Jocie and her books:
Website
Author Facebook Page
Amazon Author Page
Goodreads Author Page
Pinterest Page