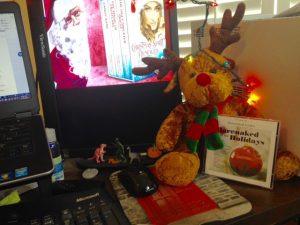 Jillian Chantal here.  I'm excited to be here to share a little about my Christmas décor for my writing area. This year is different as we are having some work done in our kitchen and my actual lair is filled with things we had to take out of the cabinets. I am working from another area for the time being, so I'm only decorating a little. A string of festive lights and a cute little critter to keep me company. I love this little guy. I found him at an antique mall here in Pensacola and even though he isn't an antique, he's super cute and I love him.
I love Christmas décor and have a number of favorite ornaments. Some are ones my kids made but a lot are ones we chose on travels. Each time either my family or I go on a trip, I try to find an ornament to commemorate the trip and to evoke memories when we put up the tree each year. I have so many (Yes, I am old and yes, I travel a lot) that I have probably enough to cover a larger than tabletop, smaller than six foot tall tree by themselves. I keep some of them out all year just because they make me happy. J
One other thing I love to have in my writing area at Christmas is a selection of holiday music. I am one of those gals who can write better with noise. I wrote a lot in the same room with my children when they were small. They made a lot of racket and usually also had on some video movies or sing-a-longs. Remember those? With the words on the screen with the ball bouncing over the words? So now that my kids are grown and gone, I still like a little company
while I write. I don't find myself singing along or tying lyrics into my story, but if someone actually tries to engage me in conversation, I will type those words.  LOL.  Weird, I know.
I am in a Christmas anthology and all three stories are a lot of fun.  It's called Christmas Spirit Renewed and my story is called The Ugly Sweater Quest.
Here's a look at Jillian's latest release: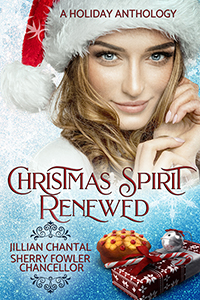 Christmas Spirit Renewed and my story is called The Ugly Sweater Quest.
Yvette Jones has a huge crush on a super popular classmate, Mark. She's heard he's having an ugly Christmas sweater party. Even though she doesn't really know him, she's determined to finagle an invitation. She and her best friend plan to visit every store that sells the best used sweaters. And by best, they mean worst.
She runs into a gorgeous Nordic-looking guy at the Goodwill Store. Before she can even look at the selection there, two other girls take them all.
Disappointed, her quest continues at another store. To her surprise, Nordic Guy is already there, looking at Christmas clothing himself. As she sorts through the racks with him, she can't help but wonder if he's flirting or just trying to get help finding his own ugly sweater.
You can purchase Christmas Spirit Renewed at:
Amazon
ABOUT THE AUTHOR: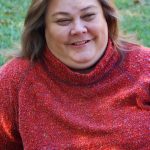 Jillian Chantal is multi-published in the romance genre. She's a lawyer by day and writer, amateur photographer and history buff by night. Jillian lives on the beautiful gulf coast of Florida and loves her little slice of paradise. But not too much to enjoy worldwide travel every chance she gets. After all, a writer and photographer needs new and exciting places to go and capture in order to stay fresh, right? And there's nothing quite like seeing historical places in person, is there?
I love to hear from readers. You can contact me here:
https://www.facebook.com/Jillianchantalauthor/