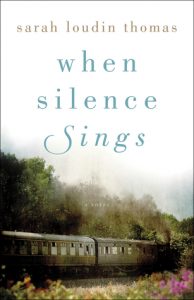 When Silence Sings by Sarah Loudin Thomas
My rating: 4 of 5 stars
This was an interesting story. I wasn't expecting the story-line to go the way it did. This story is a bit of a wild west family feud. It pits the Harpe family against the McLeans. The feuding goes way back and no one has thought to strop it tile Colman. I love Colman, he's the sort of character you can't help but love. He's awkward, funny, caring, and sometimes charming. He's also a preacher from the Harpe family who goes into the McLean territory to "bring the word of God to them". Ivy is very interesting and I love her gently strength. She is not from either family but thought to be a decedent from "Moon people". This story is not all that it seems. The twist and turns it took kept me reading it till the early hours of the morning. If you are looking for great fiction with a wild west supernatural twist then this is a book for you! Happy reading my friends!
View all my reviews – By Holly Irish
Book Summary:
After the rival McLean clan guns down his cousin, Colman Harpe chooses peace over seeking revenge with his family. But when he hears God tell him to preach to the McLeans, a failed attempt to run away leaves him sick and suffering in their territory. He soon learns that appearances can be deceiving, and the face of evil doesn't look like he expected