DROP BY TOMORROW FOR OUR INTERVIEW WITH SUZANNE!
Can an Arch Nemesis from the Past Destroy a Promising Future?
"Fisher delivers a refreshing story about reconnecting with family and discovering one's purpose in life." —Publishers Weekly, on A Summer's Tide Ada, Mich.—
In 2019, Suzanne Woods Fisher veered away from her roots of writing Amish fiction to introduce readers to a new lineup of characters in her contemporary romance series, Three Sisters Island. In book two, On a Coastal Breeze, Fisher invites readers back to the Island where family, forgiveness, and love await.
Maddie Grayson's life is just taking off. As a newly licensed marriage and family therapist, she's eager to start her practice on Three Sisters Island. She feels like she's finally found her sweet spot and is ready to make a difference in the community. But her stable life is soon shaken when an arch nemesis from the past parachutes into town. Literally.
Ricky O'Shea is the one man Maddie hoped she would never see again. But with him being the newly appointed minister to the small island, their paths cross frequently. Is Maddie willing to forgive Rick and move on? Or are some wounds just too painful to forget?
With over 1.1 million copies sold, Fisher has charmed readers with her heartwarming stories filled with wit and a bit of whimsy. On a Coastal Breeze will continue to delight fans as they travel back to the small island off the coast of Maine.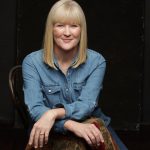 ABOUT SUZANNE:
Suzanne Woods Fisher is an award-winning, bestselling author of more than thirty books, including On a Summer Tide, as well as the Nantucket Legacy, Amish Beginnings, The Bishop's Family, The Deacon's Family, and The Inn at Eagle Hill series, among other novels. She is also the author of several nonfiction books about the Amish, including Amish Peace and Amish Proverbs. She lives in California. Learn more at www.suzannewoodsfisher.com and follow Suzanne on Facebook @SuzanneWoodsFisherAuthor and Twitter @suzannewfisher.