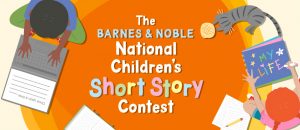 Young Writers, Barnes & Nobles wants to see your stories!
Attention all young storytellers and promising wordsmiths! Barnes & Noble is calling on children ages 6-12 to share their original short stories for a chance to be published in a book!
We believe in the power of stories to inspire and bring joy! That's why we're launching a Children's Short Story Contest to give young writers a chance to become published authors. Fifteen select entrants will be published in a book sold exclusively at Barnes & Noble this holiday season, with a portion of the proceeds going to charity. In addition, our fifteen winners and fifteen runners-up will get a signed book from bestselling author Gail Carson Levine.