A fun interview with thriller writer MJ Preston who writes great serial killers, which kinda makes us wonder, right? LOL He's a great writer and you'll get your thrill on when you read any of his amazing books!
You can hear the podcast HERE or click on the picture below.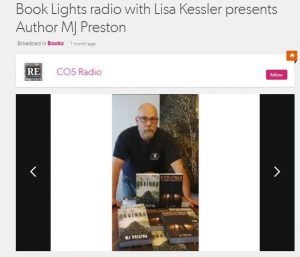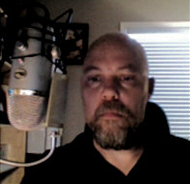 To his neighbors, he is a quiet and assuming guy who works blue-collar. What they don't know is that he also writes dark speculative fiction. His work has been printed all over the world, with four novels on the market and a fifth and sixth in production. His short fiction is also available with numerous pubs, including magazines and anthologies. You can find out more about MJ on his website: https://www.mjpreston.net/
More about his book FOUR-
Unsure if the FBI is watching, Lance Belanger spends his days and nights in a paranoid malaise, longing to kill again. Meanwhile, in Bucharest, Romania, an Interpol raid leads to clues and a witness who can identify the Highwayman. Armed with new evidence, newly promoted SAC FBI Agent, Dave Maxwell heads for Bucharest, as his team of investigators redeploys their investigation on their original suspect, Lance Belanger. It would appear, the net is closing.
But the Highwayman has other ideas.
Just after dusk, outside of Pittsburgh, four strangers exit a service van and perpetrate the mass murder of four families in their suburban homes. It doesn't take long for the FBI to connect the killings to Highwayman, and when they raid Belanger's properties, they are left a parting gift.
Another murder and a message for Maxwell from the Highwayman himself.
Come and find me!
As the killing ramps up, Maxwell leads a posse of investigators across two states, north to Canada to try and thwart the Highwayman in his endgame, that involves kidnapping, mass murder, and betrayal.
The predator is now the prey. But can they stop him before he disappears for good?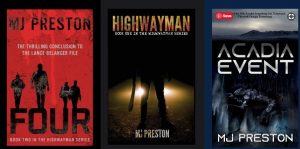 _______________________________
PURCHASE COPY
Kindle $ 5.99   978-1-948239-71-4
Trade Pbk $ 16.49   978-1-952225-00-0
Radio show host Lisa Kessler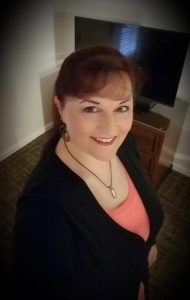 Lisa Kessler is a Best Selling author of dark paranormal fiction. She's a two-time San Diego Book Award winner for Best Published Fantasy-Sci-fi-Horror and Best Published Romance. Her books have also won the PRISM award, the Award of Excellence, the National Excellence in Romantic Fiction Award, the Award of Merit from the Holt Medallion, and an International Digital Award for Best Paranormal.
Her short stories have been published in print anthologies and magazines, and her vampire story, Immortal Beloved, was a finalist for a Bram Stoker award.
When she's not writing, Lisa is a professional vocalist, and has performed with San Diego Opera as well as other musical theater companies in San Diego.
You can learn more at http://Lisa-Kessler.com
RE on iTunes- https://podcasts.apple.com/us/podcast/readers-entertainment-radio/id280931729