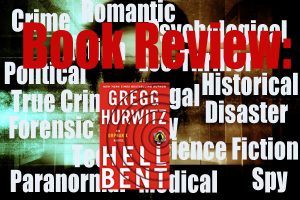 Reviewing Gregg Hurwitz's novel Hell Bent.
RATING: 5 of 5
"Y.A.S, Y.A.L"
Evan Smoak was "recruited" into a secret government organization as a 12 year old, and taught the skills he needed to become an off-the-books assassin: Orphan X.
A few years ago, Evan left the Orphan program to become "The Nowhere Man". A person who would help anyone who called 1-855-2-NOWHERE and asked for help.
Evan now leads two lives: A hard-working cleaning supply salesman and apartment dweller with a sometimes girlfriend, Mia, and her son Peter, and his real job as "The Nowhere Man".
As the book starts…..Evan gets a call on his special, highly secure cell phone, meant only for NOWHERE calls. It is his mentor, in the Orphan program, Jack Johns…the closest person on earth that Evan has to family.
The Director of the Orphan program, Van Sciver (and Evan's oldest and most dangerous enemy), has found Johns and will eliminate him in order to get to, and kill, Orphan X.
But, before Johns dies, he leaves a message for Evan:
"Get Package" 3728 Oak Terrace #202, Hillsboro, OR
That package turns out to be Joey…….and what follows is a breathtaking story of revenge reaching all the way to the top of the political spectrum.
To see what happens, you will need to read the book. ?
To say that "Hellbent" is hella-great is an understatement, as it takes the reader on a journey of (unwanted) self-discovery as the bodies of Evan's enemies pile up in his wake: Nothing and no one is going to stop "The Nowhere Man" from killing those who killed his "father".
But along the way…..can it be that Evan realizes that he has found the meaning of true love?
"The hard part isn't turning you in to a killer.
The hard part is keeping you human"
OMFG, give me some tissue and a shot of vodka!
---
PS: I will read "Out of the Dark" next as I may be in line to get an ARC of Hurwitz's newest book due out in Jan 2020. If I don't get it, at least I will be caught up. ?
__________________________________________________________
Originally posted on TracyReaderDad.com October 19, 2019