We're starting a new monthly feature at Reader's Entertainment where we take a look at authors more personal side. This month we are looking at authors and their hobbies.
********************************************************************************
We begin this series with author Jerry Harwood. He's not only an author, he's a firefighter/first responder!
Jerry grew up on a farm in rural Tennessee.  He is happiest outside.  In fact, most mornings he does his writing on his back porch.  In addition to his new hobby of writing, Jerry is a volunteer first responder.  He volunteers with Waldens Ridge Emergency Services where he was Rookie of the Year in 20011.  He has been trained as an emergency medical responder,
pump operator, and because his department is on a mountain with many trails, in rope rescue.
His family actually owns a vintage fire engine.  Every Christmas, his family partners with another family to deliver over four hundred "Christmas meal" bags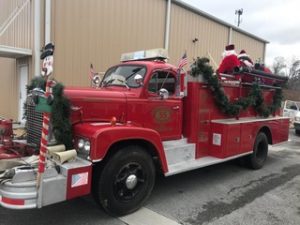 to local areas of poverty.  They also deliver gift bags for boys and girls.  Jerry drives the old fire truck and gives kids rides around the neighborhood streets as parents collect their meal bags.
When possible, Jerry also loves to ride motorcycles.  But his favorite hobby is to spoil his wife.  He will even put on a dress and play "Aunty Em" in a amateur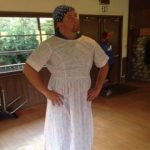 theatre production if it helps her laugh.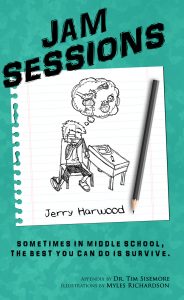 Jerry's latest release is JAM SESSIONS: SOMETIMES IN MIDDLE SCHOOL THE BEST YOU CAN DO IS SURVIVE 
This is a middle school age read that reviewers are raving about…….here's a blurb:
Meet Phillip. His mom relocates him to a new school in the middle of the school year.
Things do not go well. Phillip lands himself a trip to the dean of student's office when he tries to forge his mother's signature. Maybe if he spelled her name correctly it would have gone better.
Phillip also finds himself having more and more anxiety. And the song some bullies are singing is certainly not helping:
Phillip Willip, Puddin and Pie.
Got a bad grade and made him cry.
There is one class Phillip has that is going well. It is with Mr. Filter, who starts each day with a writing prompt. These "jam sessions" allow students to be creative and enjoy writing. Phillip writes about being a basketball on a soccer field. Another day he writes about receiving two dragon eggs in the mail, one for himself and one for a particularly cute girl.
But will Phillip ever be able to make his real life go as well as his Jam Sessions?
ABOUT THE AUTHOR: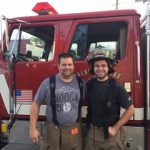 Jerry Harwood was born in Ooltewah, TN. His mother was an elementary school teacher and he spent his afternoons reading books in her classroom or the nearby library. He currently is a writer, which makes sense based on the fact you are reading this here. He has experimented with other occupations: camp director, program director at a counseling center, college professor and middle school teacher. Jerry has backpacked Europe, taught in a Ukrainian University, worked in Rwanda after the genocide, is a first responder, sort-of remodeled a VW Thing, and has a love for Cherry Coke Zero that is only surpassed by his love for his wife, six children, and grandson.
YOU CAN FIND HIM ONLINE AT:
Website : http://www.jerryharwood.com
Jam Sessions: https://www.amazon.com/dp/B0868XNSH9
Amazon Author's Page: https://www.amazon.com/-/e/B0863YPCD7
Blog: https://www.circumlocution.net
Facebook Author's Page: https://www.facebook.com/jerry.harwood.731
Email: JerryHarwoodBooks@gmail.com
EBook (non-kindle): https://books2read.com/u/3k1X8n
IndieBound: https://www.indiebound.org/book/9781734787405
Audible: https://www.audible.com/pd/B08966KV5S/?source_code=AUDFPWS0223189MWT-BK-ACX0-197765&ref=acx_bty_BK_ACX0_197765_rh_us