Sometimes the perfect partner has four paws…
 Emily Main had it all: a high-powered career with a leading technology giant and a handsome fiancé bounding up the corporate ladder. Their island wedding and honeymoon were idyllic—until a tragic accident causes her retinas to detach.
Her well-ordered life is shattered as all treatments are unsuccessful and she slips into blindness. How will those around her cope with her tragedy? Can she rebuild her life in this most unwelcome, new normal?
 Meanwhile, a black lab puppy named Garth fulfills his destiny to become that most esteemed of all creatures: a guide dog.
 Guiding Emily is a heartwarming tale of love, loss, and courage as Garth and Emily make their way to each other.
Guiding Emily takes readers through the heartbreak, the fear, and the
triumph that so many of our visually impaired adult clients face. At
the Foundation for Blind Children, we believe vision loss is a diagno-
sis, not a disability. Read this book—Emily Main personifies that
belief, as she digs deep to find the confidence and strength she never
knew she had.
—Marc Ashton, CEO, Foundation for Blind Children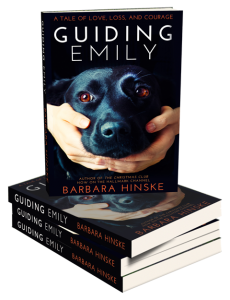 EXCERPT:::::::
Emily. The woman who would become everything to me. The person I would eat every meal with and lie down next to every night—for the rest of my days.
She was just ahead; behind that door at the far end of the long hall. I glanced over my shoulder. Mark kept pace, slightly behind me. I could feel his excitement. It matched my own.
Everyone said Emily and I would be perfect for each other. I'd overheard them talking when they thought I was asleep. I spend a lot of time with my eyes closed, but I don't sleep much. They didn't know that.
"A magical match," they'd all agreed.
I lifted my eyes to Mark, and he nodded his encouragement. I gave a brief shake of my head. Only four more doorways between
Emily and me.
I picked up my pace. A cylindrical orange object on the carpet in the third doorway from the end caught my eye. Is that a Cheeto? A Crunchy Cheeto? I love Crunchy Cheetos.
I tore my eyes away.
This was no time to get distracted.
We sped across the remaining distance to the doorway at the end of the hall. The door that separated me from my destiny.
I froze and waited while Mark knocked. I heard Emily's voice—the sound I would come to love above all
others—say, "Come in."
What was that in her voice? Eagerness—anxiety—maybe even a touch of fear? I'd take care of all of that right away.
The door swung open and Mark stepped back. He pointed to Emily.
I'd seen her before. Emily Main was a beautiful young woman in her late twenties. Auburn hair cascaded around her shoulders and shone like a new penny. With my jet-black coloring, we'd make a striking couple.
"Go on," Mark said.
I abandoned all my training—all sense of decorum—and raced to
her.
Emily reached for me and flung her arms around my neck. I placed my nose against her throat, and she tumbled out of her
chair onto her knees.
I swept my tongue over her cheek, tasting the saltiness of her
tears.
"Oh … Garth." My name on her lips came out in a hoarse whisper.
I wagged my tail so hard that we both lay back on the floor. "Good boy, Garth!"
She rubbed the ridge of my skull behind my ears in a way that would become one of my favorite things in the whole wide world.
Next to food. Especially Crunchy Cheetos.
Mark and the other trainers were right—we were made for each other. I was the perfect guide dog for Emily Main.
ABOUT THE AUTHOR: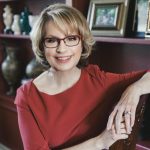 Barbara Hinske is an attorney who recently left the practice of law to pursue her career as a full-time novelist. Her latest novel, Guiding Emily, was conceived during a tour of The Foundation for Blind Children. She was inspired and moved by their mission and is donating half of her proceeds from the book to the Foundation. Barb is also the author of the bestselling Rosemont series and the murder mysteries in her 'Who's There?!' collection. Her novella The Christmas Club was made into a 2019 Hallmark Channel Christmas movie.
She inherited the fiction gene from her father who wrote mysteries when he retired and told her a story every night of her childhood. She and her husband share their own Rosemont with two adorable and spoiled dogs. A true homebody, she is besotted with decorating, entertaining, cooking, and gardening.
Find more about Barbara online at:
https://www.instagram.com/barbarahinskeauthor
https://www.facebook.com/bhinske/