Hobbies! Cap and Art and Books, Oh My! With Megan Slayer
I've been thinking lately about my hobbies. You'd think I'd be doing more with them, but instead I've been thinking about them. When I was asked what my hobbies are…I had to give it a thought or two. I know that sounds silly. I'll explain.
You see, when I have free time, I tend to spend it writing. I have a fam and pets. They take up a lot of time. I don't always have set hours to write. Now that things are all in flux because of Covid-19, my schedules are even more of a mess. So I get what I can get done when I can.
But this is about hobbies. One of my hobbies I love but don't have enough time to do is art. I love to draw and paint. Some of the photos here with the post are of my works of art. I love to draw my pets and paint portraits. I'm partial to acrylics, but I've worked in oils. Oils are a pain because you need more ventilation and my dog, who has to follow me everywhere, can't be loose.
Another of my hobbies is collecting things. I know, I know. I have too many things. Old books, copies of Little Women from each decade, old paperbacks from the 50s, records—oh, I love my vinyl—and books in general. I love books. Then again, I write them, so yeah, books are right up there.
Of my collections, the one I seek things out for the most has to be my Captain America collection. I have a thing for Cap. Those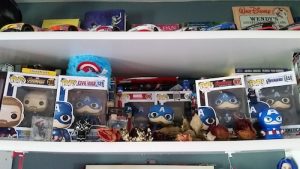 who meet me in person, know Cap's the thing (although I am rather partial to Wonder Woman, too). I have a Captain America funko that travels with me. Cap sits in my cubbie in my Jeep. I even named pets after good ole Cap. He is America's…you know. And I like looking at his buns.
The hobby I have that takes the most time, outside of writing, has to be volunteering for my local Friends of the Library group. If you're a book nerd like me, then you'll understand why the Friends of the Library is essential. We have book sales, which means we collect books for the sales. If you're the one sorting said books, you can pick what you want first. Of course, I always make a donation when I choose those books, but hey, books!! I love my books. (Did you notice that theme? Grin.)
What about you? What are your hobbies? I'd love to know.
Here's a little bit about my latest release, Rescuing His Shifter!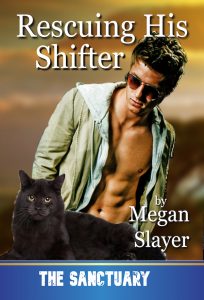 Rescuing His Shifter – Sanctuary book 14
Megan Slayer
Megan Slayer Publications

Love can be found in the places least expected.
Seth Reilly went to the animal shelter to comfort the cats during the loud noises on the Fourth of July. He had no idea the lumpy, grumpy black cat named Maui isn't just a cat. He's a shifter and he's hot as hell. Seth hadn't planned on adopting a cat, but he can't leave the shifter behind.
Jeremy Peters never expected to lose his human side for so long. Then again, he never expected to land in an animal shelter, either. Now he's got the chance to be free, but he'd rather rub against his sexy human rescuer.
When troubles from their past come back to mess with their happy home, can Seth and Jeremy find a future together?
https://www.amazon.com/gp/product/B087QV8777/ 
Print: https://www.amazon.com/Rescuing-His-Shifter-Contemporary-Paranormal/dp/B088BFGFD3/
Universal Link: https://books2read.com/u/3yEldZ 
ABOUT THE AUTHOR: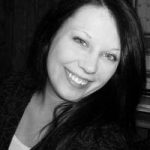 And a little bit about me!
Megan Slayer, aka Wendi Zwaduk, is a multi-published, award-winning author of more than one-hundred short stories and novels. She's been writing since 2008 and published since 2009. Her stories range from the contemporary and paranormal to LGBTQ and white hot themes. No matter what the length, her works are always hot, but with a lot of heart. She enjoys giving her characters a second chance at love, no matter what the form. She's been nominated at the LRC for Best Author, Best Contemporary, Best Ménage, Best BDSM and Best Anthology. Her books have made it to the bestseller lists on Amazon.com.
When she's not writing, Megan spends time with her husband and son as well as three dogs and three cats. She enjoys art, music and racing, but football is her sport of choice. She's an active member of the Friends of the Keystone-LaGrange Public library. Find out more about Megan and Wendi at: http://wendizwaduk.com/indexMegan.htm Sign up for the newsletter here: http://ymlp.com/xgjmjumygmgj 
Website, Blog, Fan Page, Amazon Author Page, Bookbub, Instagram, Goodreads, and Twitter