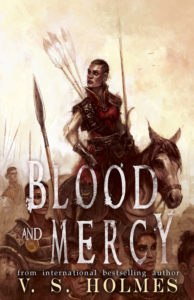 Blood of Titans: Restored (Madness and Gods & Blood and Mercy)
The war against the gods was just the beginning
Madness and Gods
The war against the gods was just the beginning. With Athrolan's queen dead, the kingdom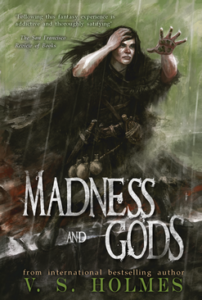 fractures between two heirs-the disinherited and senile Daymir Blackhouse, and the Dhoah' Laen's rumored child. Except Alea's son is imprisoned in Ban, unaware of the power in his veins.
Blood and Mercy
Saving the world may have doomed them all. Keplan reels in the wake of grief and guilt at the blood on his hands. Isolated within the same cold, marble walls as Athrolan's murderous king, Rih struggles to plot her rebellion leagues away from everything she has ever known. Then tragedy strikes. Rih must choose between a mad king's life and her own revolution.
Blood of Titans World:
Smoke and Rain,
Lightning and Flames,
Madness and Gods,
Blood and Mercy (out June 2020)
all available from digital retailers and as individual paperbacks wherever books are sold.
V. S. Holmes is an international bestselling SFF author. They write the Nel Bently Books and the Blood of Titans series. Their debut, Smoke and Rain, won New Apple Literary's Excellence in Independent Publishing Award in 2015 and a Literary Titan Gold in 2020. They also work as an advocate for disabled and queer representation in SFF worlds.
V.S. Holmes is available for interviews, media appearances, speaking engagements, and/or book review requests – please contact mickey.creativeedge@gmail.com by email or by phone at 403.464.6925.